Hiking Adventures Through Pennsylvania's York County Trail Towns!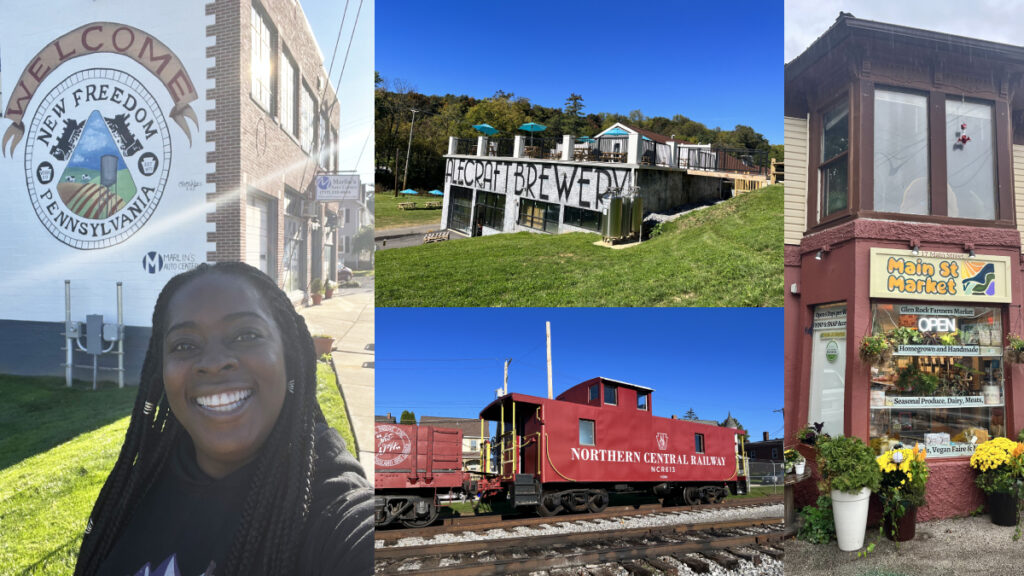 "This is a sponsored post. We loved partnering with York County for this adventure. All reviews and opinions expressed in this post are based on my personal view." — @Toyin Ajayi
When I talk about hiking, people often think of mountains or trails that may seem intimidating to them. I'm always excited to explore the many types of trails that can work for beginners and experts. One of my recent discoveries was a gem in York County, Pennsylvania. The Heritage Rail Trail is a really cool trail that extends 21 miles through York County and connects to Maryland. They've found a great way to repurpose a rail line that's no longer running and allow people to still experience the wonderful views along the way. What's really cool about The Heritage Rail Trail is that it's adjacent to a number of walkable communities including New Freedom, Glen Rock, Railroad, Seven Valleys, York City, Hanover, and Wrightsville. The York County Trail Towns program encourages trail users to patron these towns along the trail, and promotes the local businesses, many of which offer free amenities for trail users. There are so many places that I travel to not knowing what to expect from the people in the area, but I'm pleased to say that all of the locals I interacted with here were really friendly. As we all know, this is something we have to consider when we add destinations to our list. I took a few days to explore what I could of New Freedom, Railroad, New Glen and Seven Valleys and had an amazing time!
All aboard for my adventure on The Heritage Rail Trail!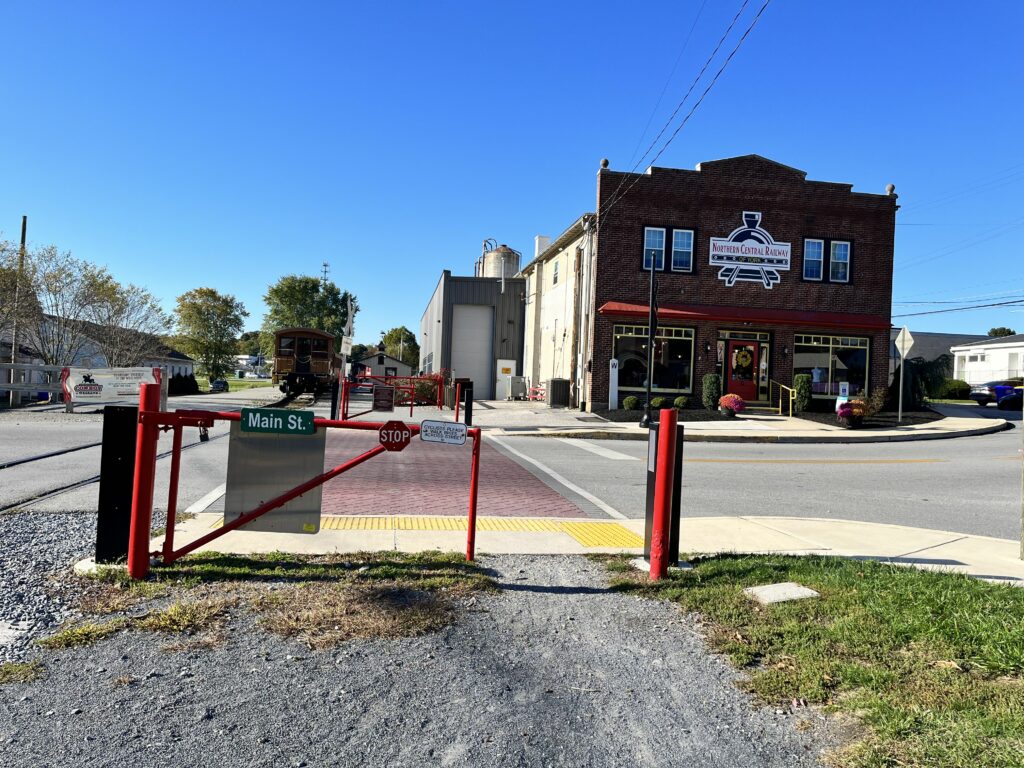 My first stop was New Freedom, I found parking at Goodefellow Park and was able to find an entrance to The Heritage Rail Trail from there. It was lovely to be greeted by the old rail carts that are still on the line. The trail is really easy to follow and you'll experience lovely views on either side, and it has easy access to local shops. The trail can be used by hikers, bikers, families, and more! As I walked through the trail, I walked past a museum "free library" – I'm such a fan of these take a book/leave a book concepts – and continued towards a local brewery and coffee shop. This is a great trail to take in the morning to start the day or if you're headed to happy hour. After I did some exploring on the trail, I walked around the Town of New Freedom and stumbled across a local book shop "Night Owl Books & Collectibles," which was too cute! I decided to grab a cup of their famous "Night Owl Coffee" and a strawberry cream donut, which I enjoyed on the patio. It was definitely a great way to finish day one of my adventures.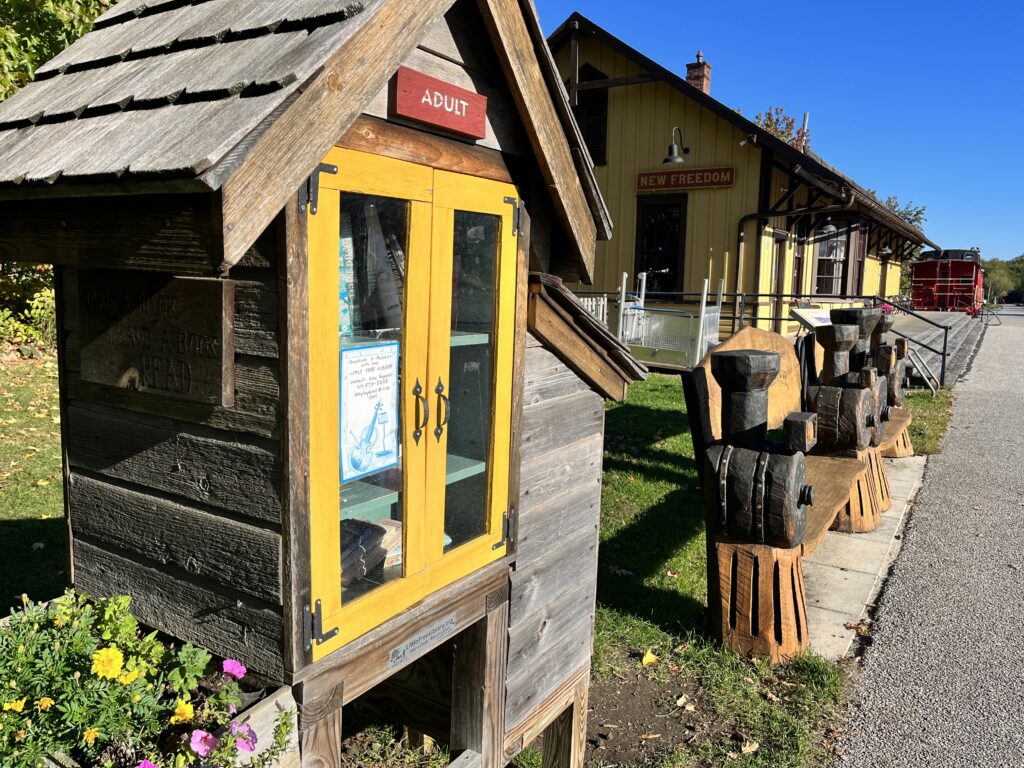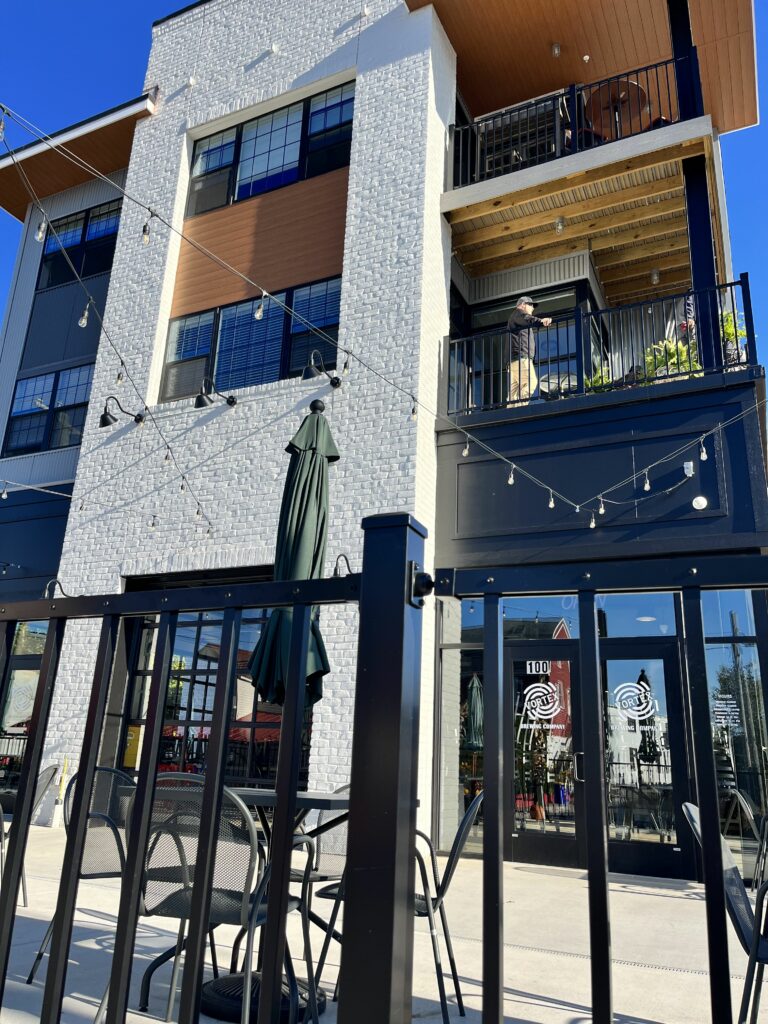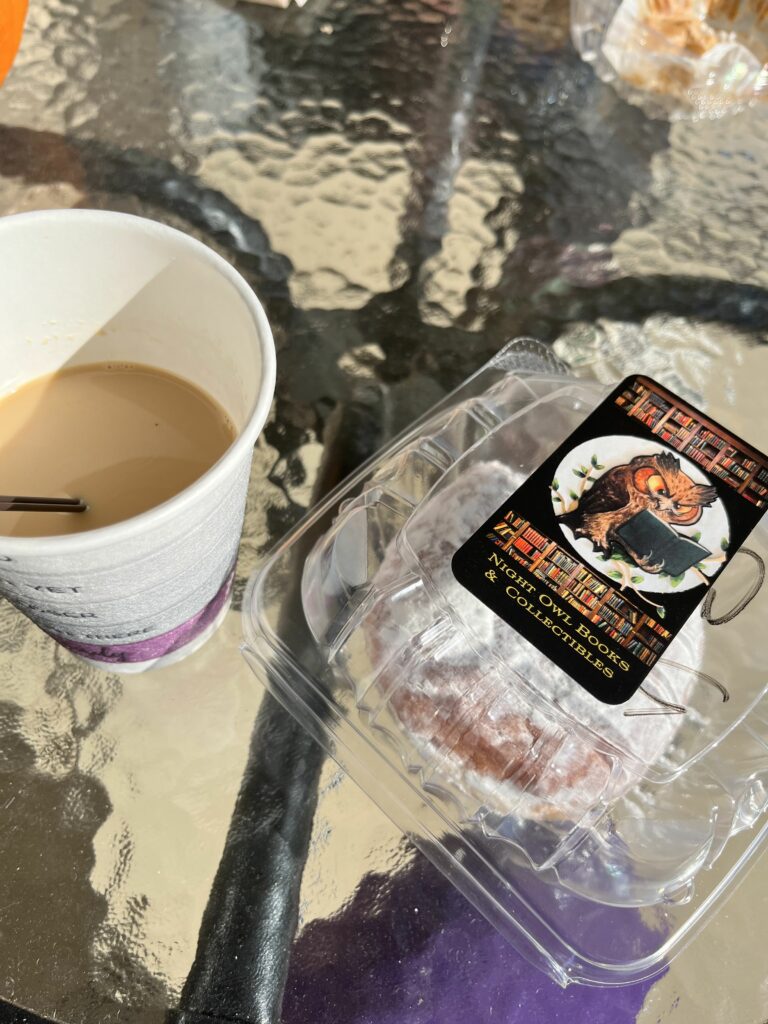 Next stop on my adventure on The Heritage Rail Trail…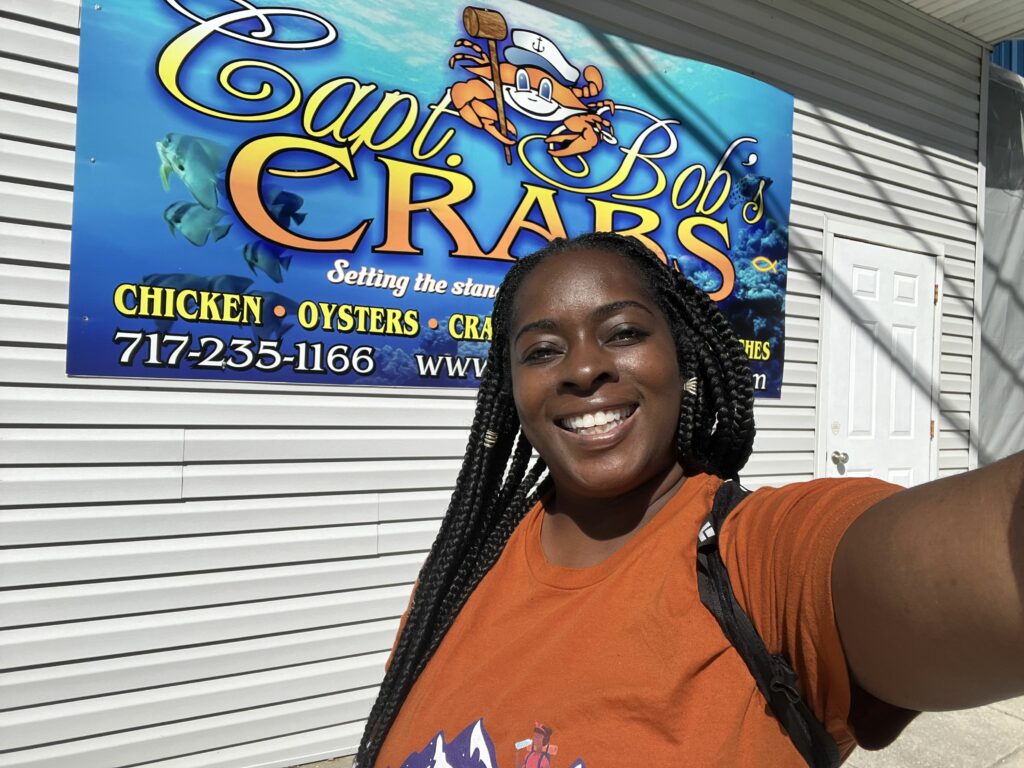 My second stop was Railroad, I was able to find parking for the trail really close to a local restaurant, "Capt. Bob's Crabs." Next to the trail is really fun. If you're looking to stay close by, Jackson Bed and Breakfast is right there. And you can literally hop on the trail when you step out or take a peek in the general/antique store across from it. There's also a really pretty creek nearby for those that love water like I do. Although I didn't want to play favorites, I do love that if you map out this trail properly you'll run into an entry point for Fox & Fern Cafe or AleCraft Brewery. Sounds like the perfect way to get a hike in before brunch. I also loved that behind Fox & Fern they have outdoor seating with a cute yurt that you can lounge in. After my walk on this part of The Heritage Trail, I headed back to Captain Bob's Crabs and had the best crab cake I've ever tasted! Their menu has a great variety and if you're not a fan of seafood, they also have chicken too. This was a perfect way to wrap up my second day of adventuring.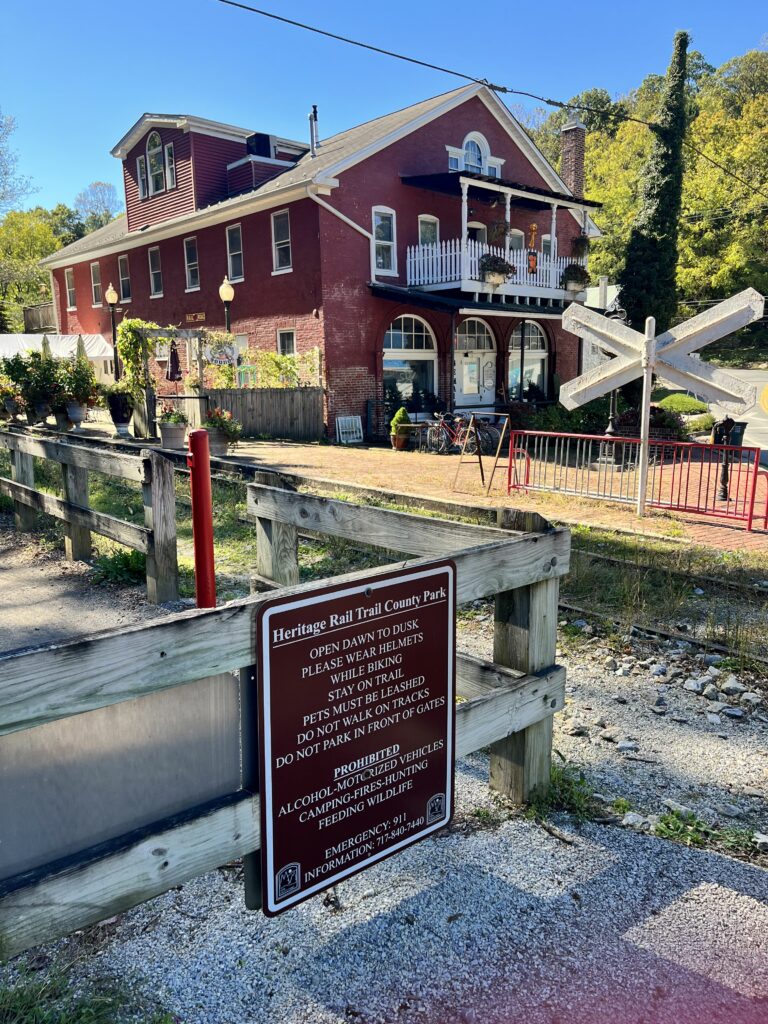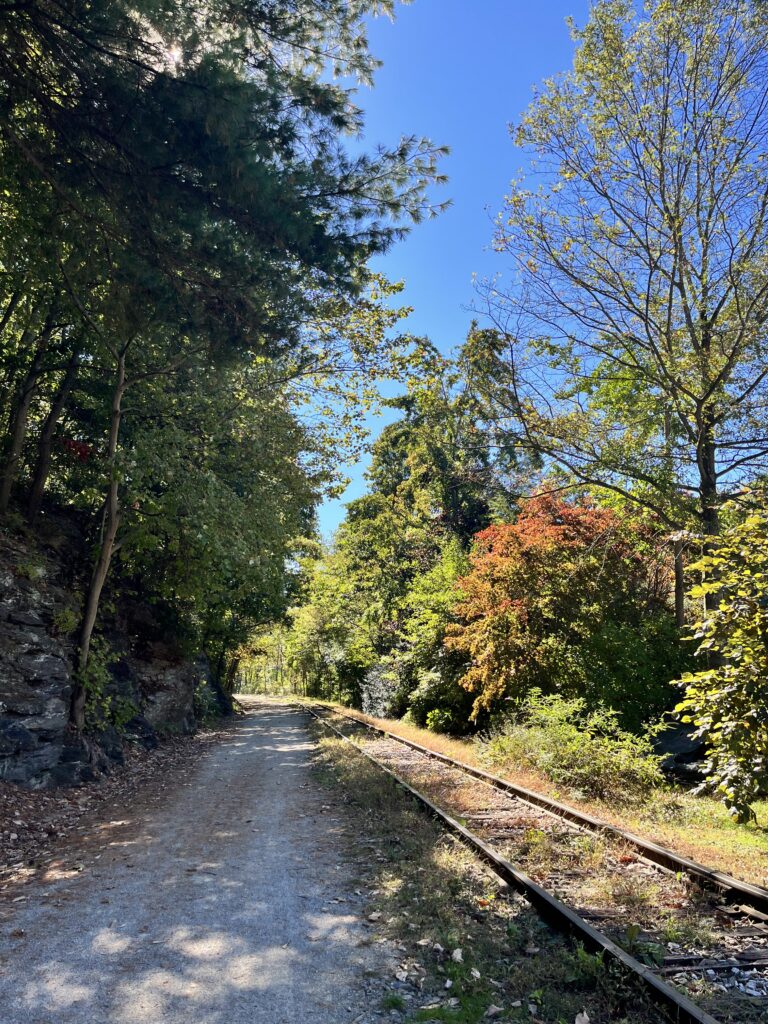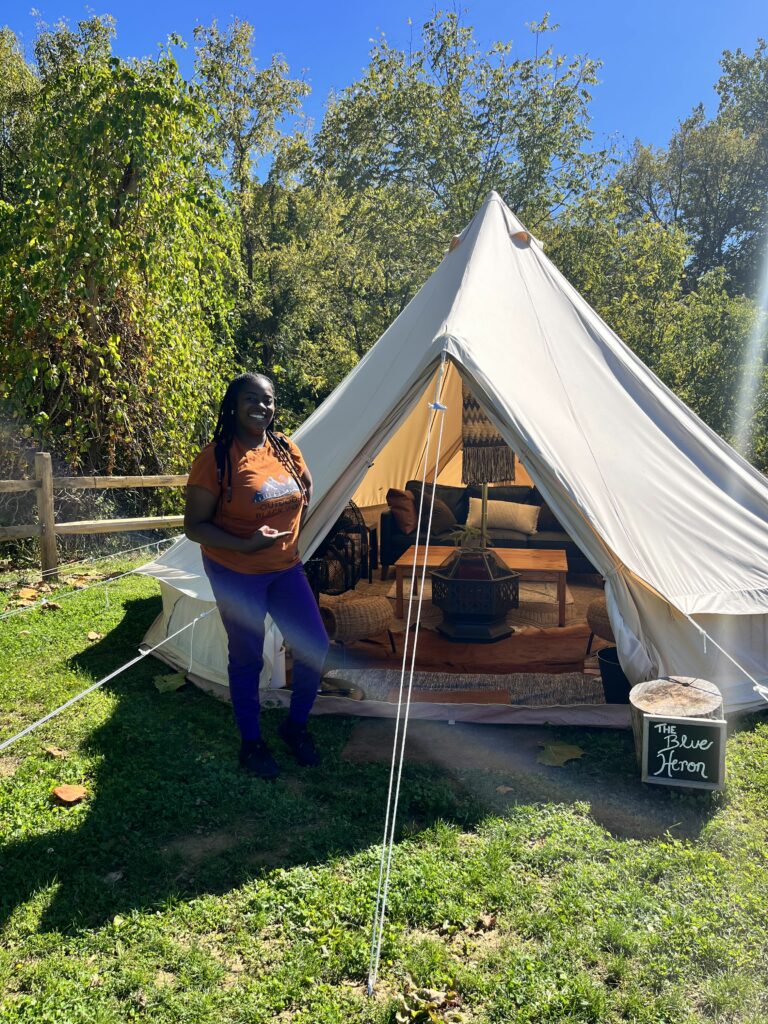 The third stop on my adventure on The Heritage Rail Trail…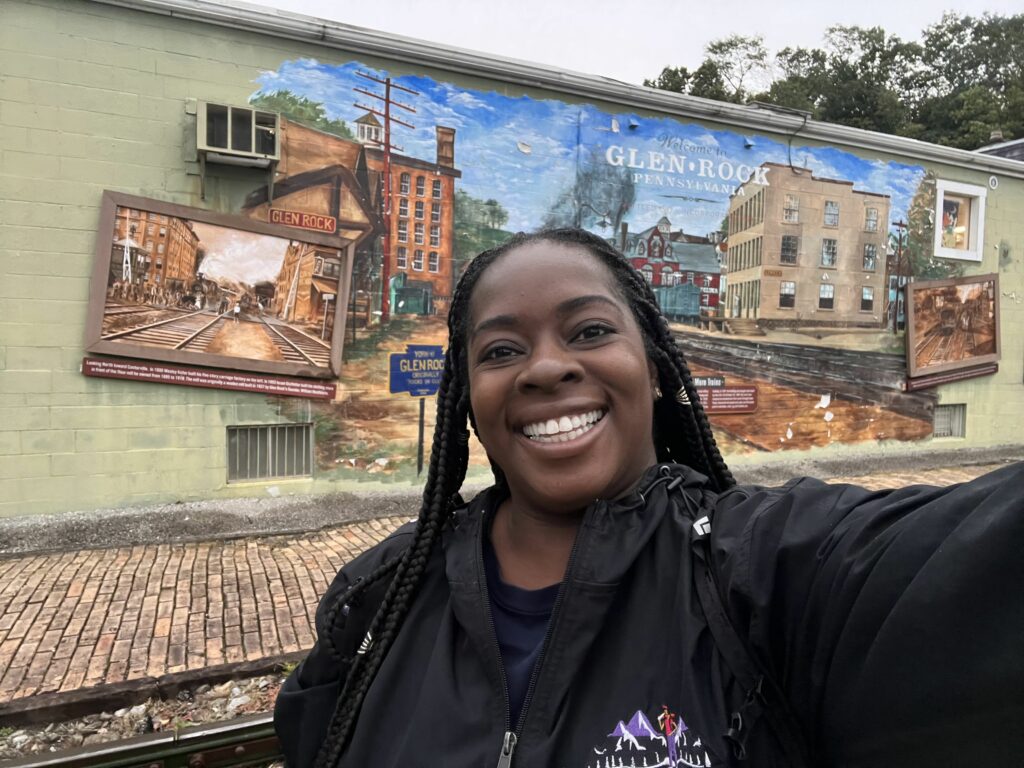 My third stop was Glen Rock – even though it was a bit rainy and gloomy, the town was beautiful. I loved the style of the different local shops. If you're looking for somewhere to stay, you can check out the Glen Rock Mill Inn which is right on the trail and has a great restaurant that you can grab lunch or dinner in. I also love that they have their own local made shop "Simply Local." I arrived fairly early so I hit the trail and checked out more of the local gems. I was treated to their famous statue of carolers, the library and then I stumbled upon Main Street Market and excellent place to grab local honey, fresh foods, and more locally sourced goods. After stopping there, I continued my adventures on The Heritage Rail Trail and passed by Rail Trail Tavern & Rail Trail Shaved Ice, another good option for lunch or a quick snack on a hot day. Since it started to rain a bit more, I doubled back on the trail and headed back to where I parked, which was by a local cafe called Kindred Wellness Cafe. I grabbed a mocha and got a chance to look through their selection of crystals and trinkets. It's a great place if you're looking to get reiki, aroma therapy, do zumba and more! I also love that they do a take a plant, leave a plant concept there. It was a great way to end day 3 of adventuring.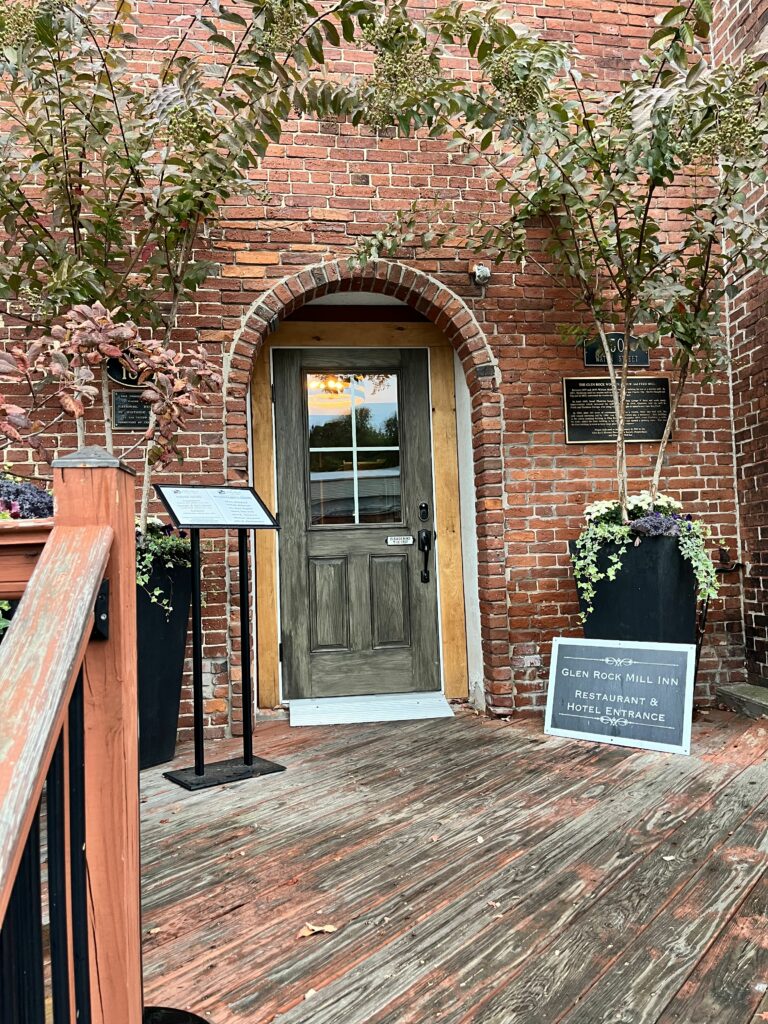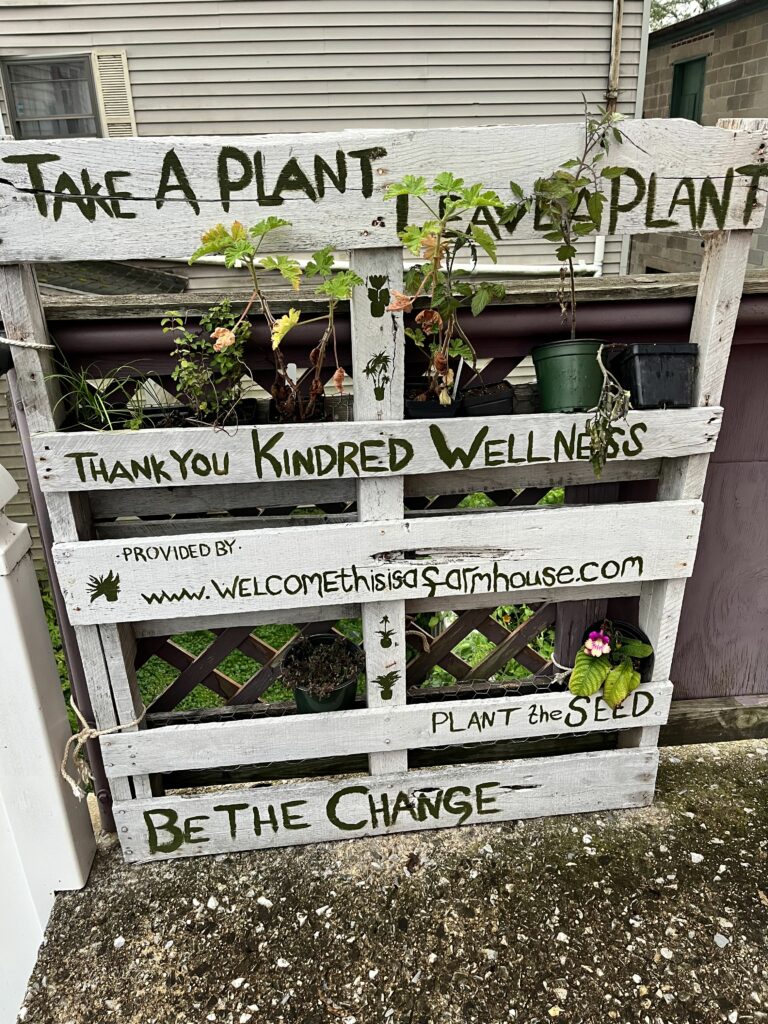 My last stop on my adventure on The Heritage Rail Trail…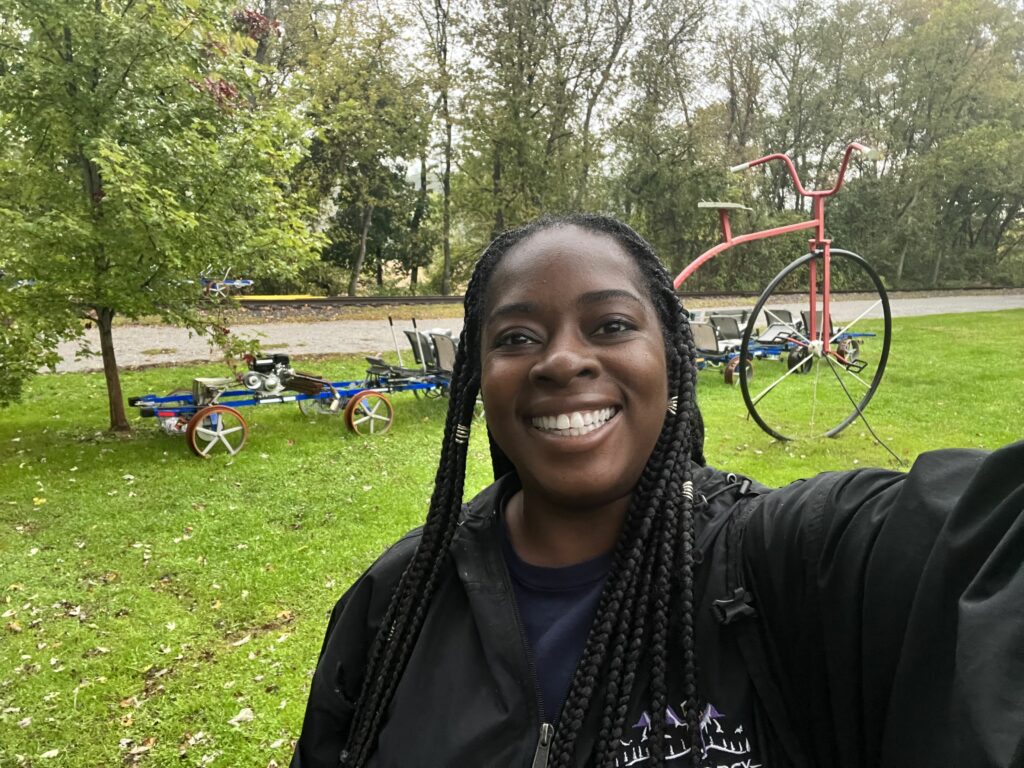 Last but not least, I finished my portion of The Heritage Rail Trail in Seven Valleys. The parking was really convenient and it's right at the trailhead. Sadly it was still raining so I didn't get a chance to try out American Rail Bike Adventures, but I hope you'll be able to experience The Heritage Rail Trail this way when you go. Still it was a great day to walk the trail and the views made it all worth it. If you're a birder, you'll be happy to see a variety of birds along the way. It was such a serene portion of the trail with the occasional mooing from cows and chirping from the birds. But what also makes this part of the trail fun is if you go in the other direction you'll find yourself passing by Four Springs Winery and The Valley Tavern. I stopped by the winery to take a look around, but since I was driving I didn't get to indulge. After checking out the winery, I doubled back and then stopped for lunch at The Valley Tavern, I ordered a platter that came with TONS of seafood lol. It was definitely a great meal for the price too. Overall, I really loved my experience at York County Trail Towns that I got to explore. It's definitely something I would recommend checking out and adding to your adventure list.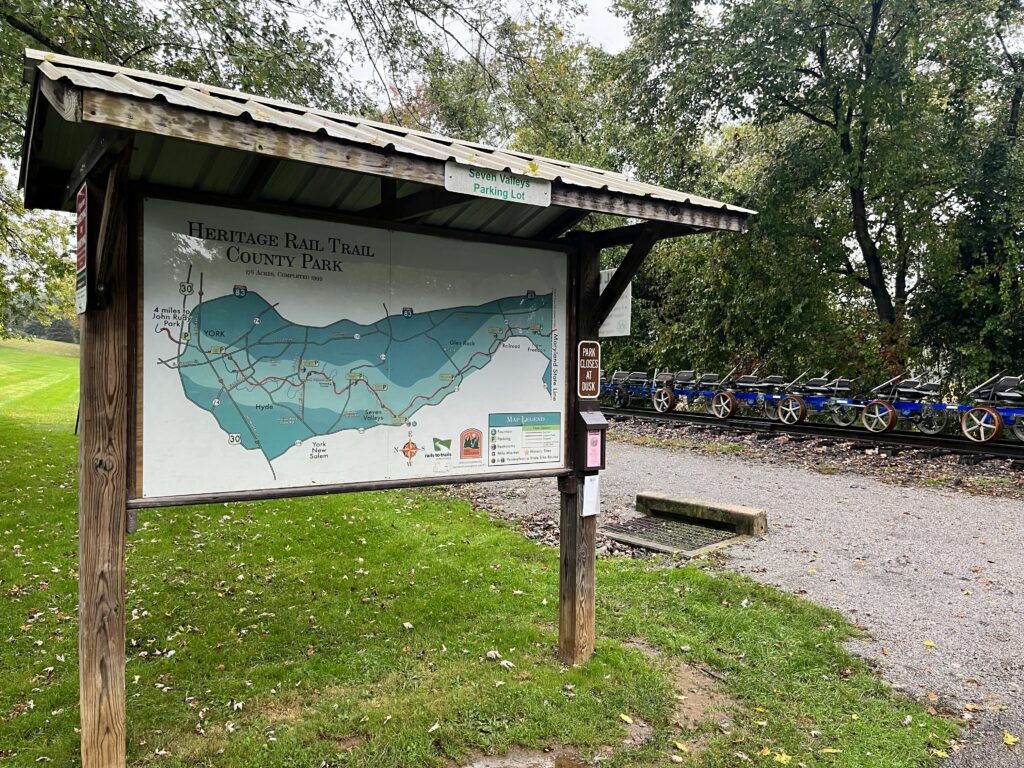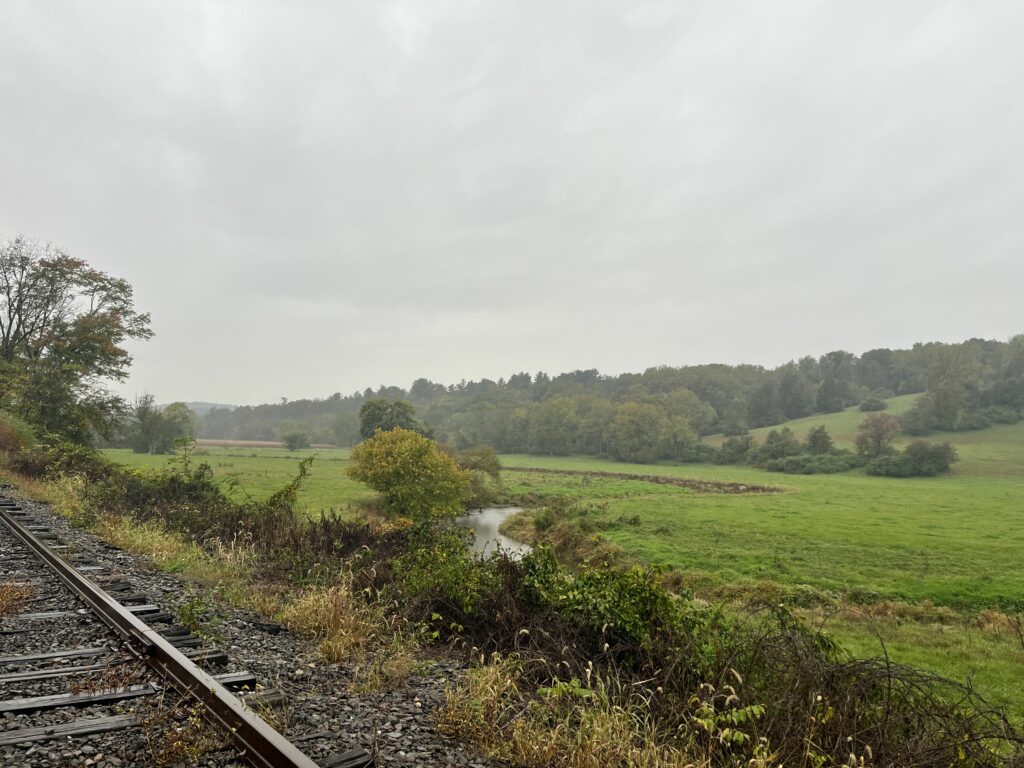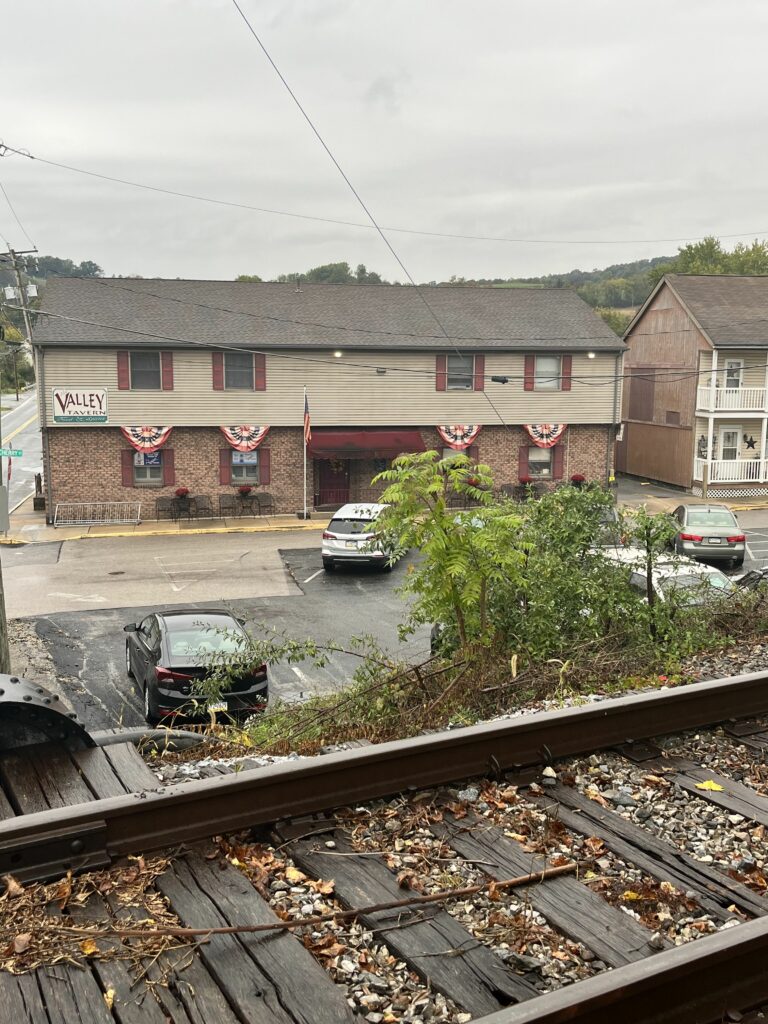 This was the perfect hiking adventure for a solo hiker, creative date or a day out with the girls. I can't wait to go back and check out what York City, Hanover and Wrightsville have to offer along The Heritage Rail Trail. Click here to check out more information about the York County Trail Towns.
Here's A Video Summary Of My Adventures On The Heritage Rail Trail…