Helen, GA
May 11 - May 14
We're excited to announce that we are hosting our 2nd annual Wine and Waterfalls weekend! We're also happy to be partnering with REI again! For 2023 we'll be back in Helen, Georgia but this event will be bigger and better.
Wine and Waterfalls weekend is a fun and exciting space for a much needed breath of fresh air in the outdoors. This campout/glampout weekend is all about having a great time, relaxation, and fostering sisterhood with other Outdoorsy Black Women.

Sponsored by REI and created by Outdoorsy Black Women. "Wine and Waterfalls" gives both first-time and seasoned campers the opportunity to learn from each other, connect with other Outdoorsy Black Women and create deeper connections with their inner outdoorswoman.
What is Wine and Waterfalls Weekend?
Wine and Waterfalls Weekend is an all inclusive, outdoor retreat experience that offers a variety of accommodations based on guests' comfort levels, from "Do-it-Yourself" tent camping, to more comfortable Cabin or "Glamping" options with all necessary gear provided and ready for you upon arrival. This 4-day, 3-night retreat will cultivate community, ignite friendships and provide a safe space for Outdoorsy Black Women to soak in the serenity of all Mother Nature has to offer. This event will be held, rain or shine.
Also, we know it's Mother's Day weekend! You're welcome to come with your daughter/mom or without, lol. Don't worry, the event will be over in time to spend time with family on that Sunday if you choose to, lol.
While we're all excited and ready to have a great time, CDC-recommended COVID-19 safety protocols will be followed and enforced. Please
visit our FAQ section
below for more details.
Wine and Waterfalls is the perfect girl's trip and opportunity to make new friends. Join us for this amazing weekend to remember!
**For safety reasons we will not be adding the full address for the location here. Once you've registered, been verified and fully paid for your ticket, you'll be able to get the address to plan your trip accordingly. **
Payment plan options available through affirm, PayPal and Klarna. 
All-Inclusive Retreat Experience

Outdoor Concert – Featuring Surprise R&B LEGEND!
Diverse Camping Accommodations
REI Outdoor Education Sessions
Vineyard Tours
Wine Tasting
Black Fae Costume Prize
Spa/Wellness Options
Guided Waterfall Hike
Morning Yoga
Paint Party
Wellness Sessions
Fireside Chat hosted by Author Carolyn Finney
Catered Meals: Vegan/Vegetarian available; 2 breakfasts, brunch, 2 dinners and Saturday's lunch
SWAG BAG from our sponsors
Solo Cottage: $1500/pp
For the ladies who lodge! This cottage option is perfect for you. You get to enjoy all the creature comforts you're accustomed to and then be outdoors for the activities, lol. Each cottage will accommodate 1 person.
Each cottage comes with everything you need to be comfortable. You will have power in your room. And you'll have access to a shared luxury bathroom trailer.
Limited number of spaces available.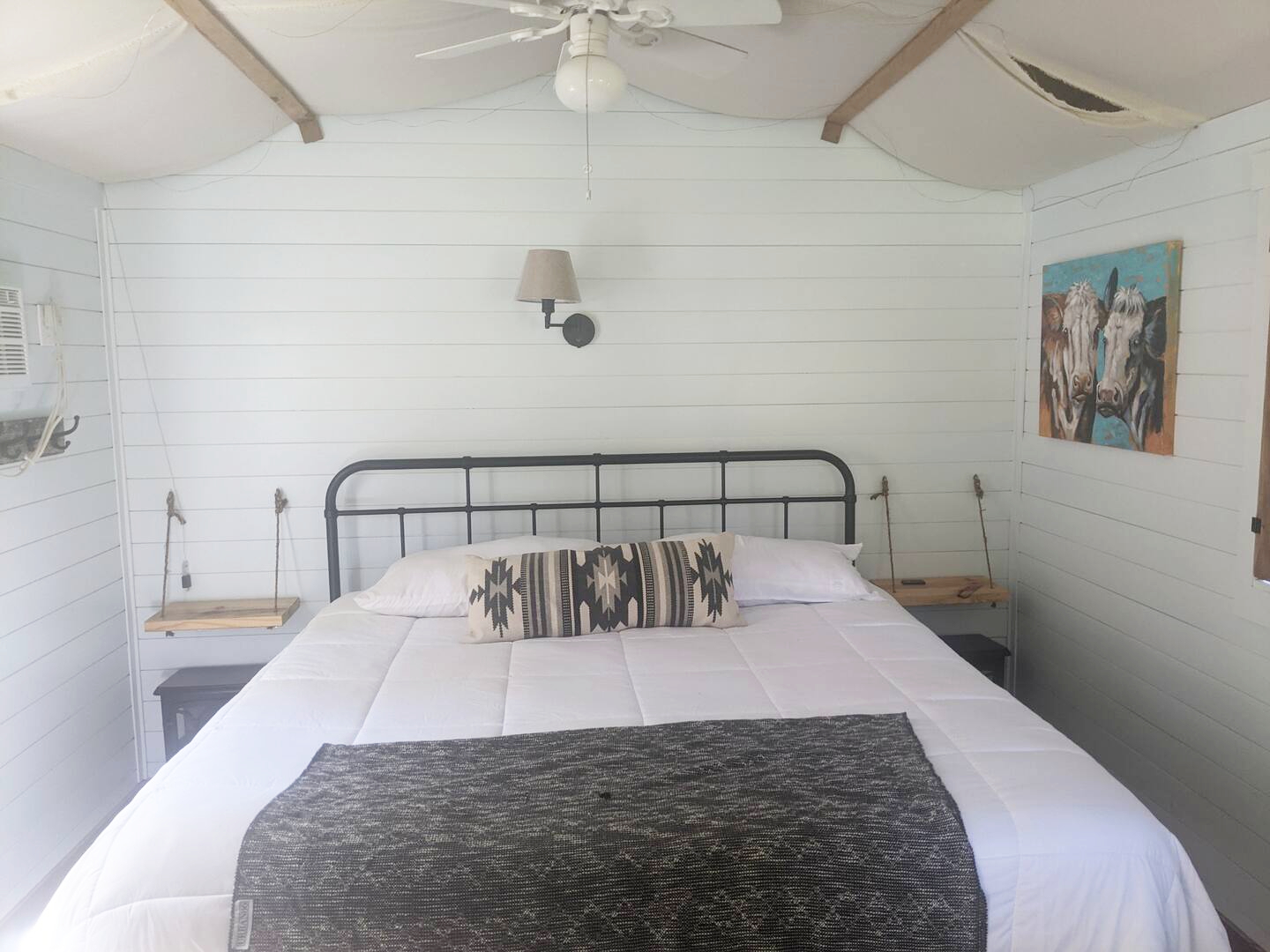 Cabin Spot: $1250/pp
Shared Cottage: $1000/pp
Glamping Tent: $750/pp
Group Glamping: $3200
Dorm Spot: $550/pp
Standard Tent or Bring Your Own Tent: $500/pp
RV/Camper Van Space: $500/pp
**For safety reasons we will not be adding the full address for the location here. Once you've registered, been verified and fully paid for your ticket, you'll be able to get the address to plan your trip accordingly.**
Frequently Asked Questions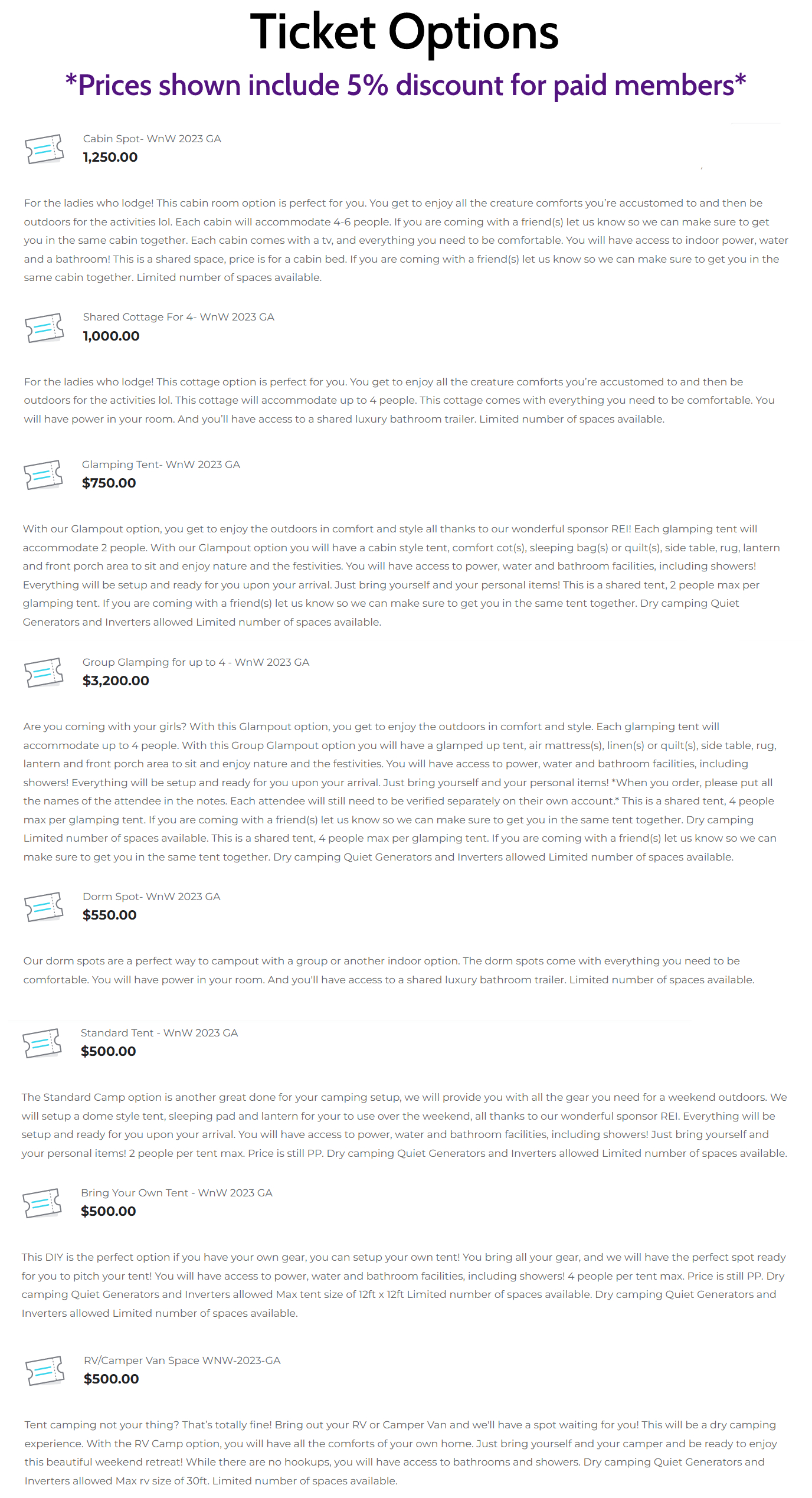 Must be logged in to purchase your ticket:
* community is free to join, we also have paid membership options*