10 Black-Owned Campgrounds to Visit and Support For Your Next Camping or Glamping Trip!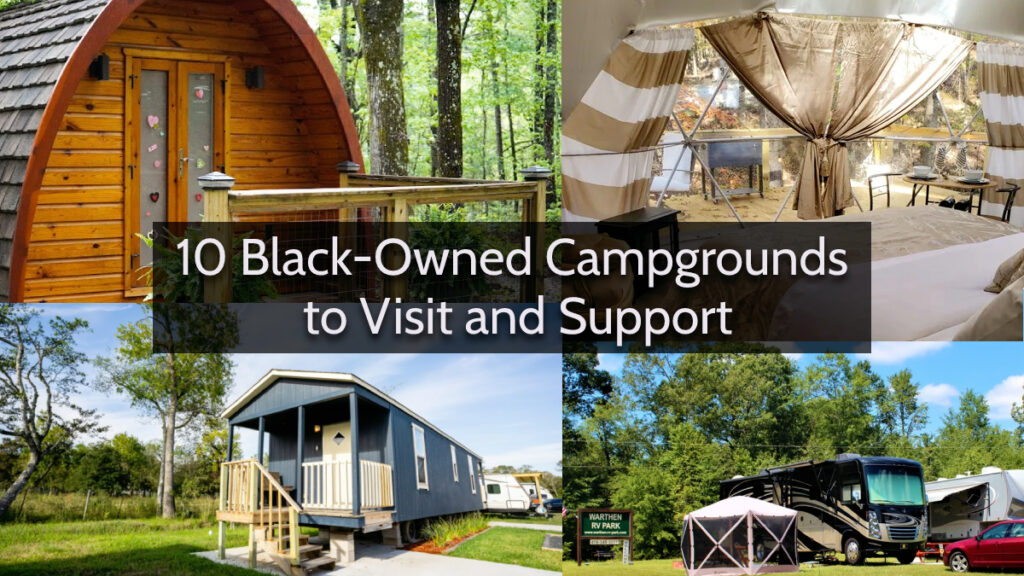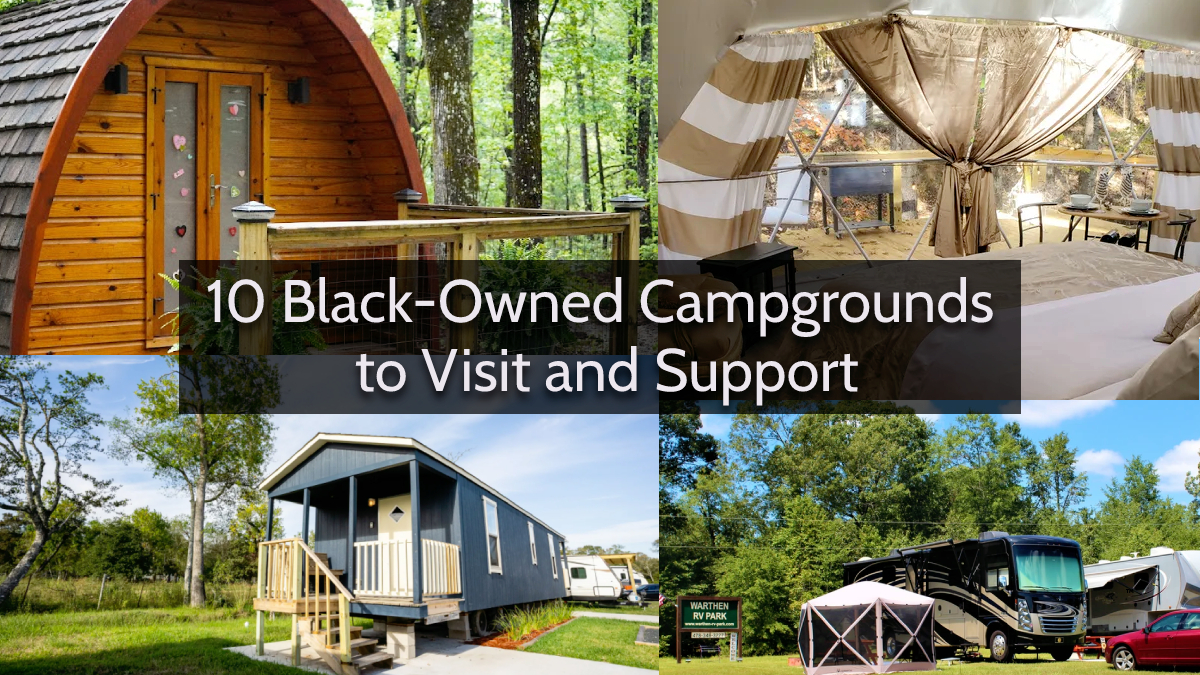 If you're looking for a way to get outdoors and support Black-owned businesses, we've got you covered. This article reviews 10 Black-owned campgrounds you can stay at in seven states: Alabama, Georgia, Texas, Maryland, Michigan, New Mexico, and Arizona. Rates range from $25 to $450 per night. This is just a snippet of how many Black-Owned Campgrounds that are out there. If you're looking for more in other states, please be sure to check out our Black-Owned business directory. Let us know in the comments if you've visited one of these campgrounds or have a recommendation for another one.
10 Black-Owned Campgrounds to Visit and Support
1. Joyland RV Park (Leesburg, AL)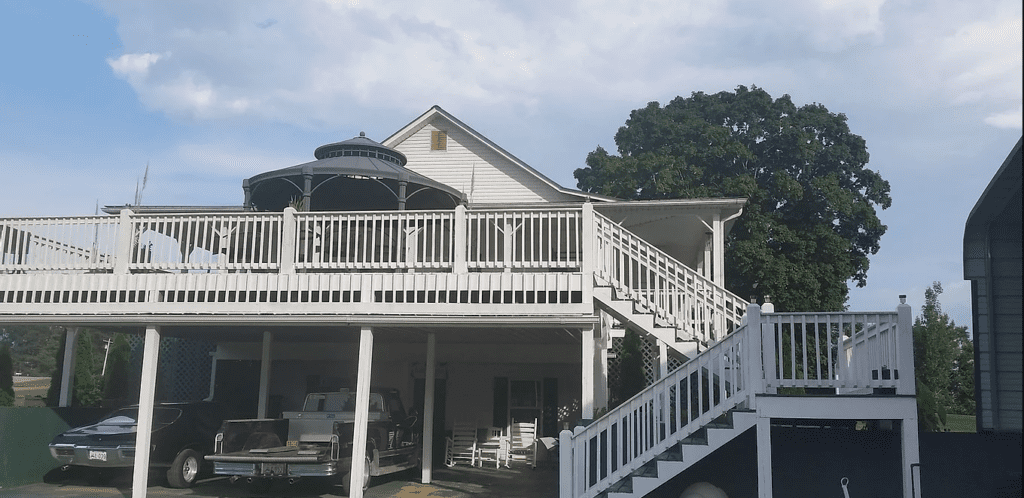 This quiet Southern town is the best place for travelers to enjoy a calm weekend of fishing, hiking, and wine tasting. Winemakers Bob and Joy Johnson own this friendly RV park located two hours from Atlanta and only an hour and a half from Birmingham or Chattanooga. Enjoy fishing in the park's stocked pond, sitting in a rocking chair, having a picnic, or sipping a coffee by the fireplace. The park also has electricity, water, and free Wi-Fi. This outdoorsy town has many active attractions, including boating and fishing at Weiss Lake, hiking, golf, and wine tasting.
Rates for RV spaces are $25-$35 per night, and bed and breakfast rooms cost $50-$90 per night. Weekly rates are also available. You can also become a member for $75 a year, which reduces nightly prices by $10-$15. See more at JoylandRVPark-Leesburg.com.
2. Warthen RV Park (Warthen, GA)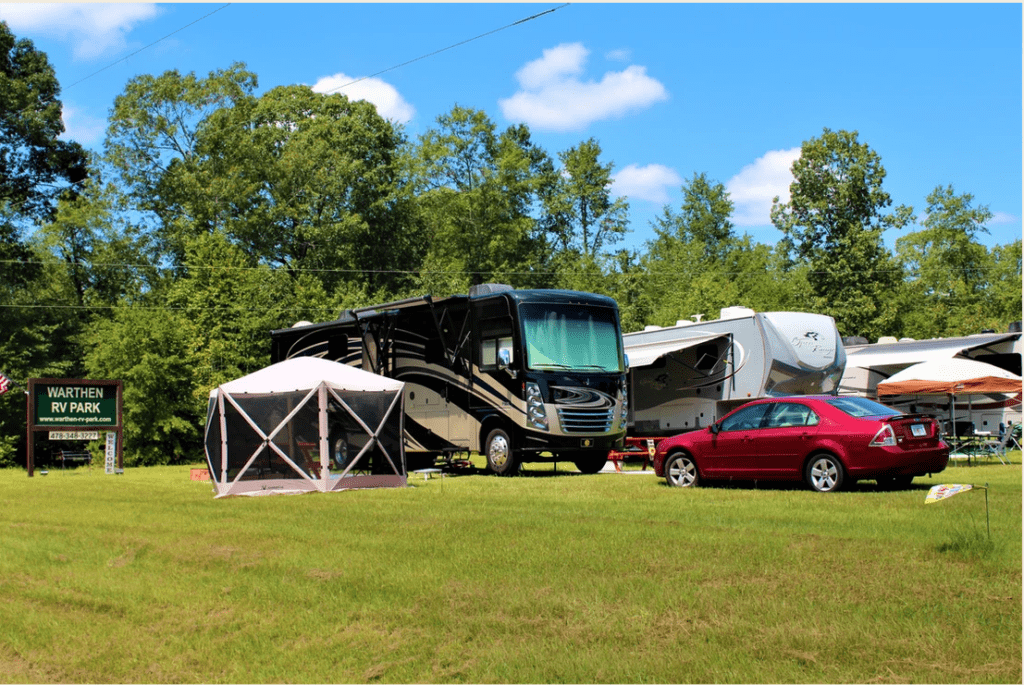 This peaceful park is ideal for families, pet owners, and long-term travelers driving recreational vehicles. The park offers full hook-ups, free Wi-Fi, on-site laundry machines and showers, picnic tables, campfire rings, a volleyball court, a dog park, and – soon – a stocked fishing pond. Amber and Josh Gordy (a former NFL player) own this RV park one hour west of Augusta and two hours east of Atlanta. The Gordys also own nearby D&D Outdoor Retreat, a group retreat location 30 minutes away in Wrightsville, GA.
The town of Warthen has a state park, historical museums, a country club, winery, and farm. The RV park also has ATV trails for more active visitors.
Rates for RV spaces are $35-$45 per night, with weekly rates available. See more at Warthen-RV-Park.com.
3. The Glamp Inn (Lincolnton, GA)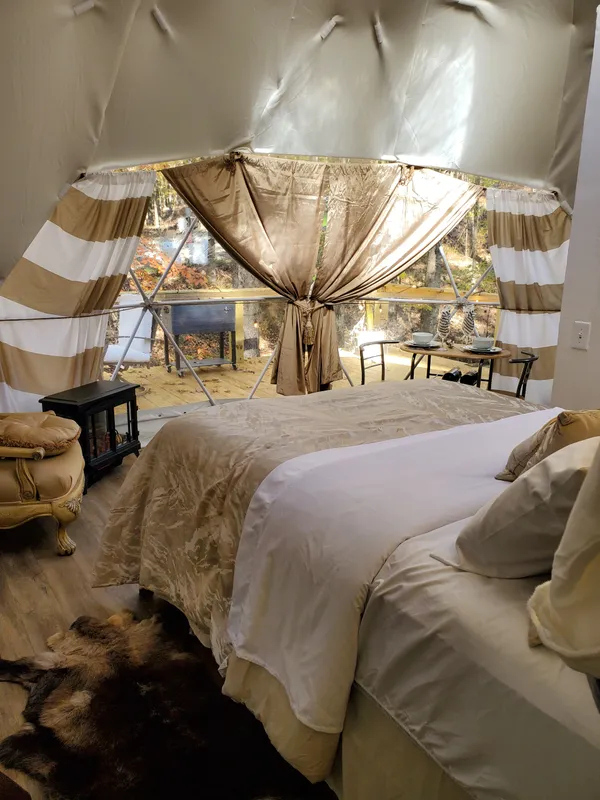 This luxurious, glamorous camping (or "glamping") experience includes staying in one of four forested geodesic domes on a peaceful lakefront. Each dome has Wi-Fi, air conditioning or heat, a kitchen or kitchenette, fridge, sofa, queen bed, private bathroom and shower, and patio. The Glamp Inn is a getaway destination for couples or solo travelers.
The Glamp Inn is located one hour northwest of Augusta and two hours east of Atlanta. The town of Lincolnton has a state park and historical park. However, most of its visitors come for fishing, boating, and swimming.
Glamping dome rooms cost $300-$450 per night. See more at TheGlampInn.com.
4. Bomax Ranch and Retreat (Crawfordville, GA)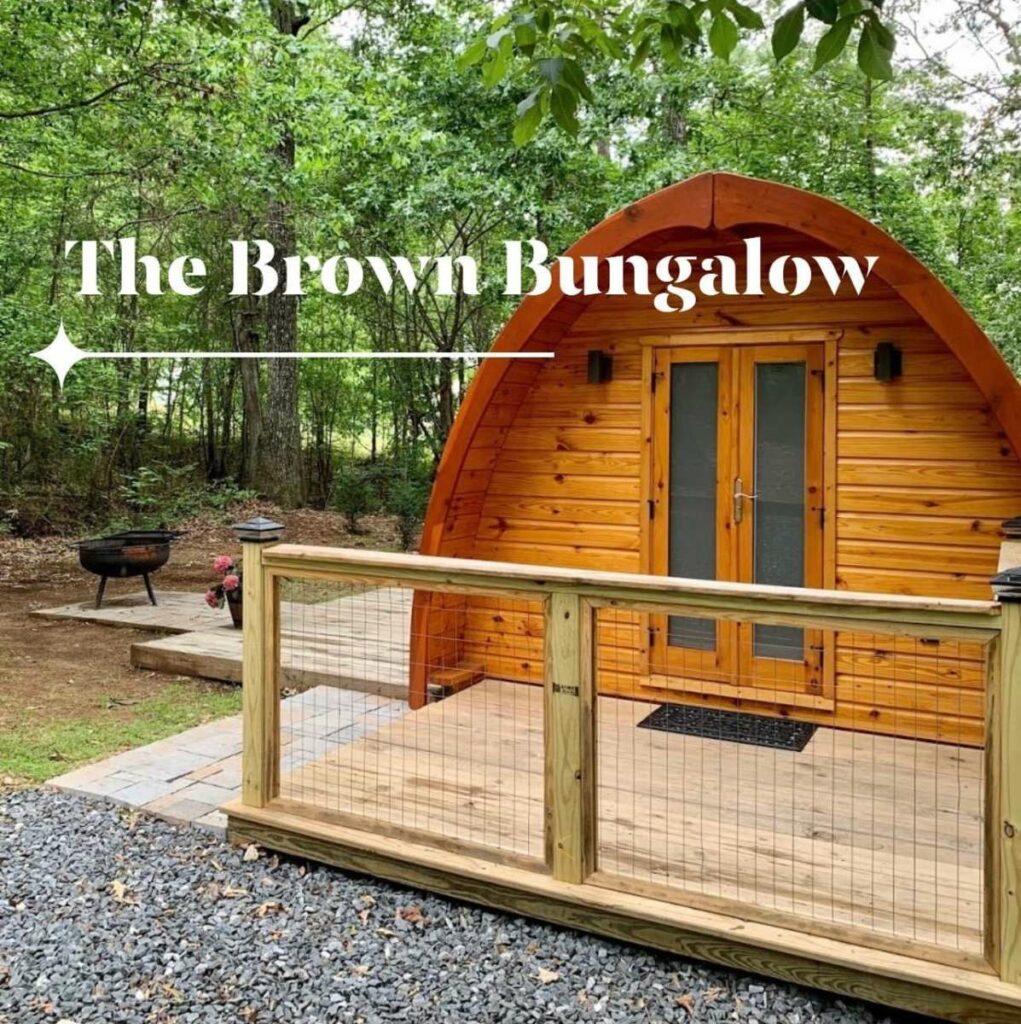 Bomax Ranch and Resort offers a quiet and affordable location for travelers with families and pets who want to enjoy a weekend of good food, fishing, and nature. You can either camp in your RV or stay in a glamping tent on site. The campground is located one hour west of Augusta and one and a half hours east of Atlanta.
Bomax is pet-friendly and has full-hookup RV sites, free Wi-Fi, picnic tables, campfire rings, grills, restrooms, and a general store. There is a barbecue restaurant and a convenience store in nearby Crawfordville. Visitors may enjoy hiking or fishing excursions at A.H. Stephens State Park, a few minutes away.
Rates start at $25 per night for a tent site or $135-$150 per night for glamping options. RV sites cost $35-$50 per night. Weekly rates are also available. However, you'll need to request a quote online. See more at Bomax-Ranch-and-Retreat.Business.Site.
5. TripL RV Park (Brazoria, TX)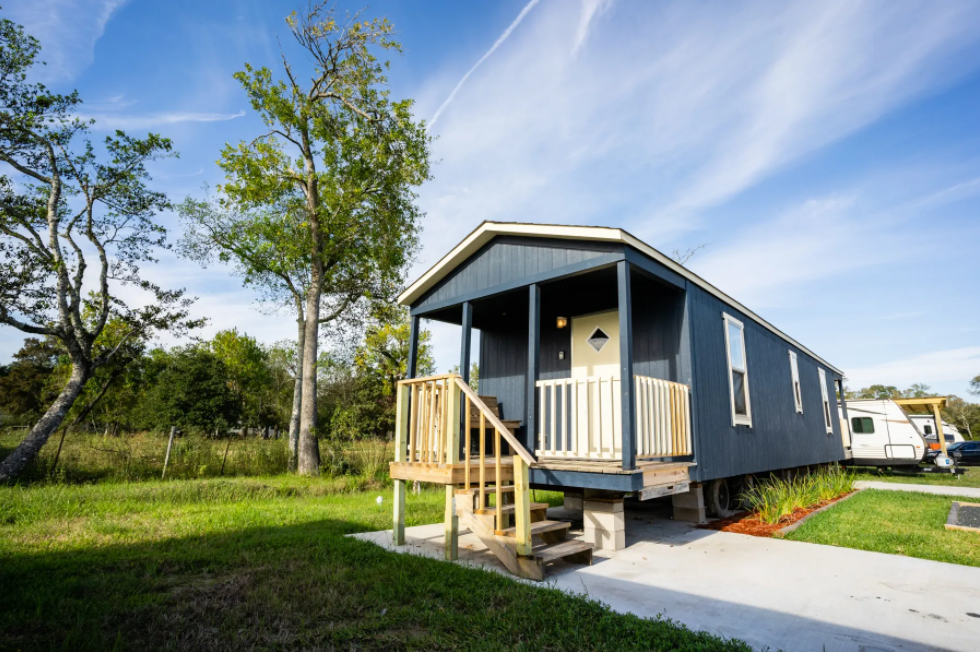 TripL RV Park is a coastal park with the quintessential Texan lodging: shipping containers. If you're looking for a place to stay near the Gulf Coast, you'll enjoy TripL. This park is located one hour south of Houston or Galveston. Brazoria has many excellent things to do, including historical museums, Gulf Coast bird observatory, wildlife animal parks, beaches, an aquarium, planetarium, multiple boat ramps, and county parks.
Food is available at the on-site cafe, Dark Roast Co., which serves sandwiches, burgers, coffee, desserts, and wine. You're also 10 minutes away from a few restaurants and grocery stores, as well as a Buc-ee's.
Cabin packages that include lodging, brunch, and wine tasting for two people cost $400-$450 for two nights. Two-bedroom RVs that fit up to eight people costs $400 for two nights. And one-bedrooms and shipping-container homes cost $200-$450 for two nights. The most affordable option is the full-hookup RV lot, which is $100 or more for two nights or $500 per month. Note: we checked these rates before Valentine's Day weekend. Read more at TripLRVPark.com.
6. The Muvaland (Lexington Park, MD)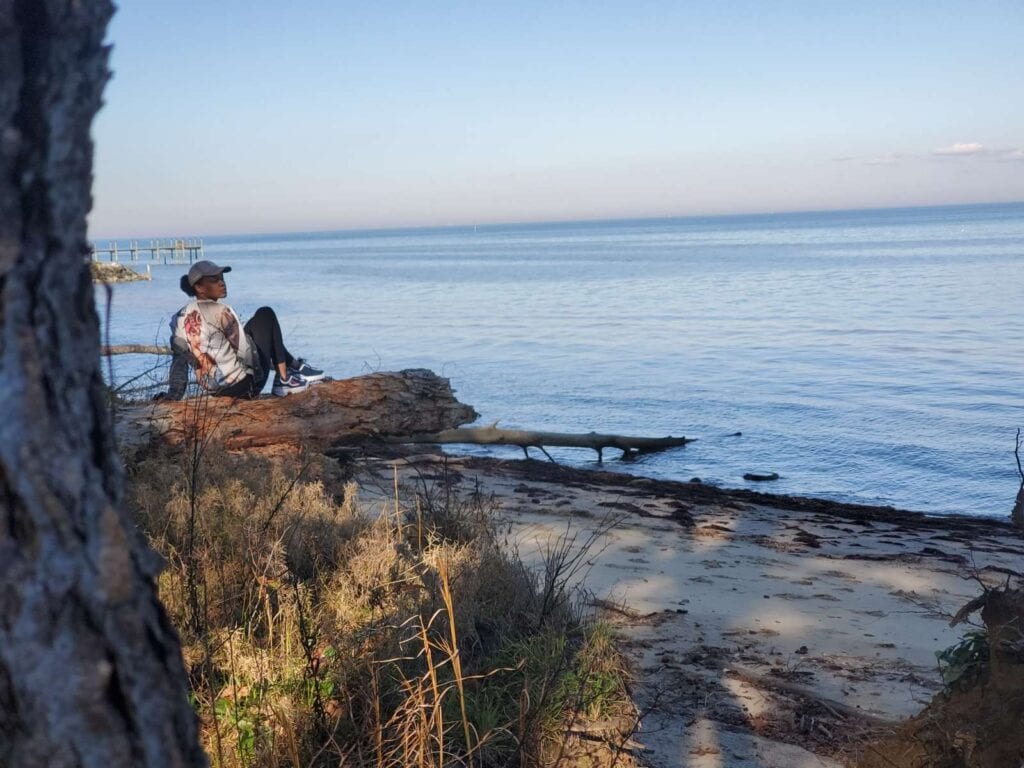 This unique campsite is on a private beach overlooking the Chesapeake Bay. When you stay here, you'll be the only occupants. To get here, you'll need to drive two hours south of Baltimore or Washington, D.C. Amina is the campsite host of Muvaland, which HipCamp ranked the best campsite in Maryland in 2022.
The Muvaland has a swing, fire pit, benches, and picnic table. The no-frills location is excellent for groups looking for a peaceful, off-the-grid stay. Bring beach gear and prepare for a memorable weekend reconnecting with loved ones on the beachfront. Kayak, canoe, and paddleboard rentals are available in town.
The Muvaland is perfect for a laidback family or friend gathering with up to 12 people. There is a minimum 2-night stay at $150 per night for the site. See their campground profile at HipCamp.com.
7. Seaside View Campground (Ridge, MD)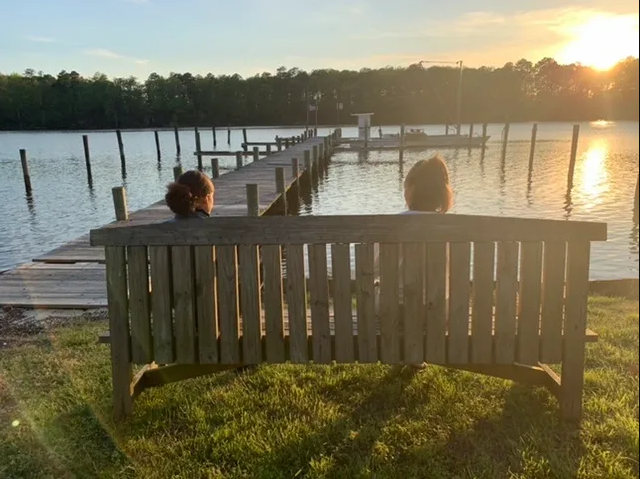 This wooded waterfront campground is ideal for visitors with recreational vehicles who want to go fishing, crabbing, kayaking, or boating on the Chesapeake Bay. This small park is located two hours south of Baltimore and Washington, D.C., making it the perfect weekend spot for busy D.C.-area residents and local day-trippers.
You can eat lunch at the on-site restaurant or pack a picnic. This quiet town has a winery, but its main attraction is fishing. Some nights there is live music at the park.
Rates for RV spaces are $48 per night, and tent sites are $30 per night. Read more at SeasideViewCampground.com.
8. Kamp 42 Degrees (Brooklyn, MI)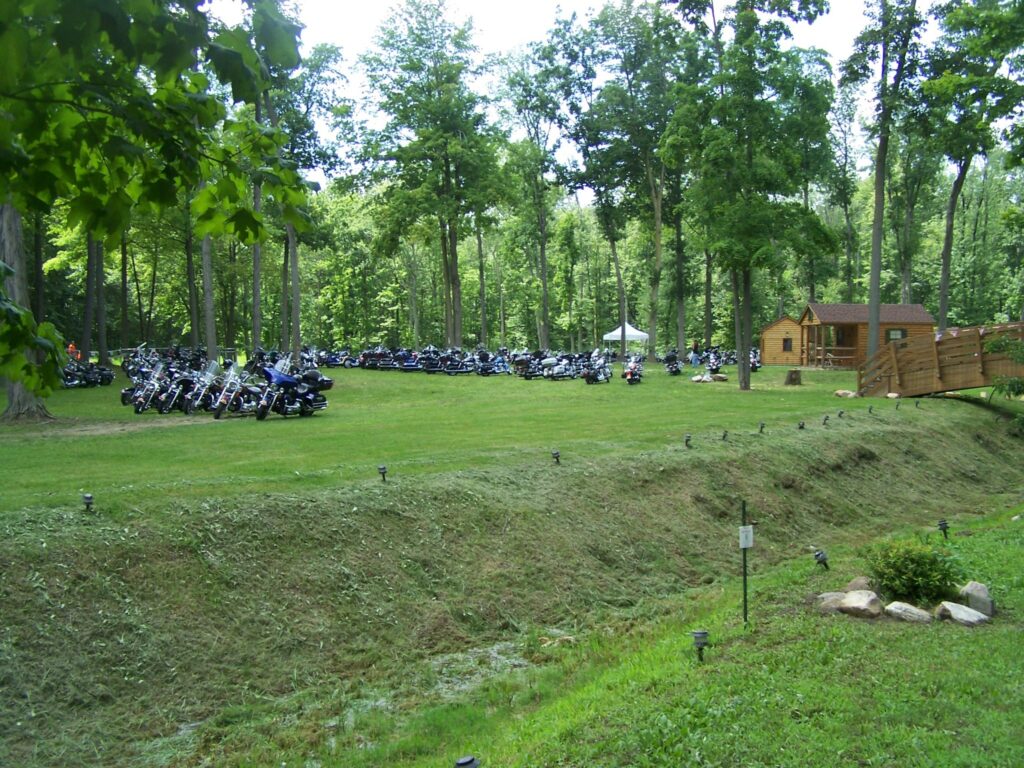 This private, cannabis-friendly campground is reserved only for adults, so it's an excellent place for anyone looking for a forest party. The campground is one and a half hours west of Detroit and has been a popular place to stay for NASCAR race attendees.
Kamp 42 offers "structured playtime for adults," including live comedy, dancing, erotic painting parties, cannabis vendors, and food trucks. If you're a laidback traveler looking to party with others, this is your campground.
Rates are not posted publicly, so you'll need to message the camp hosts directly on WhatsApp or Facebook Messenger. See their campground page at Facebook.com.
9. Mujeres Valley Campground (Fence Lake, NM)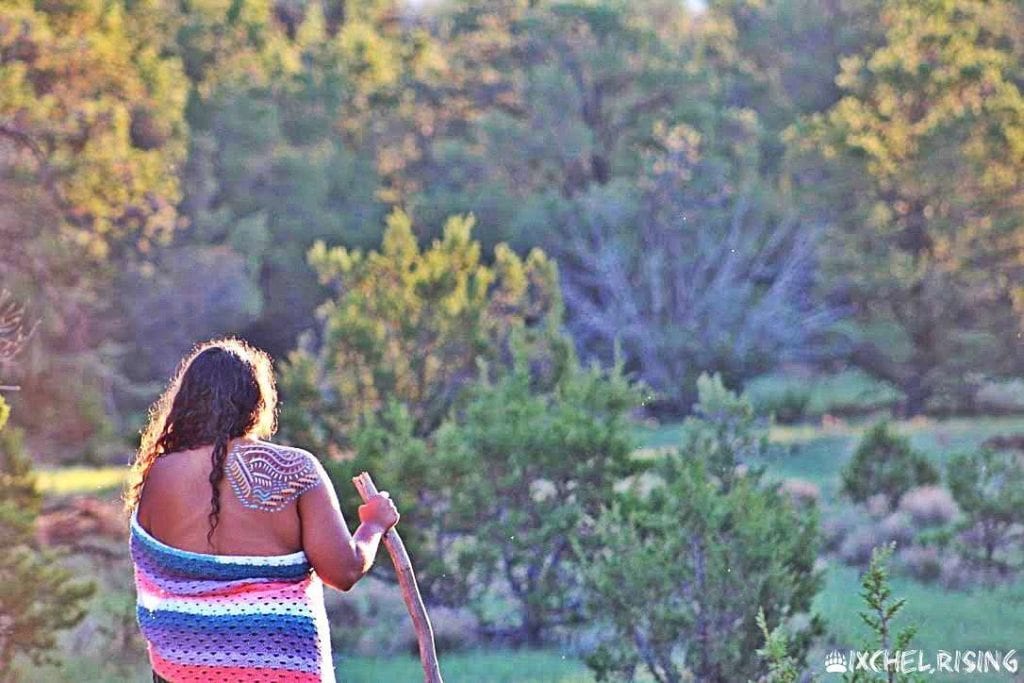 This sustainable, dispersed-camping spot two hours west of Albuquerque is ideal for visitors who want to watch wildlife, go hiking, and relax around a campfire. Cristina is the campsite host, cultivating a "BIPOC, Cannabis and LGBT+ safe space."
Though the campground has campfire pits, Wi-Fi, potable water, laundry, a kitchen, toilet, and showers, you will have limited access to amenities like a gas station or grocery store and should consider this an off-the-grid experience. Fill up your vehicle's gas tank on Highway 40 and bring enough food for your trip. Nearby attractions include El Malpais National Monument (1-hour drive), El Morro National Monument (1.5-hour drive), and the Wild Spirit Wolf Sanctuary on Navajo land (1-hour drive).
Mujeres Valley is perfect for eco-conscious travelers who enjoy being immersed in nature. Rates start at $17 per night and go up to $180 for a nine-person site with additional amenities like a firewood bundle ($10), outdoor shower hut ($5), or hammock ($10). See their campground profile at HipCamp.com.
10. Cowtown Keeylocko (Tucson, AZ)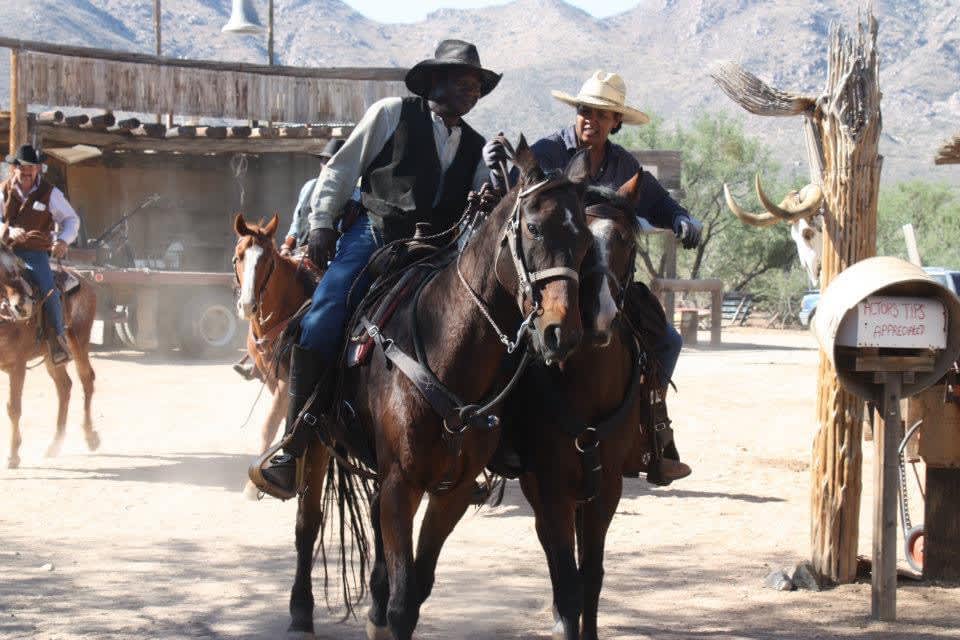 This charming campground is ideal for aspiring cowboys visiting the Wild West. Edward JB Keeylocko created the made-up Western town located one hour outside of Tucson (see this short documentary for more). Now that Ed has died, his family is working to continue his legacy by reopening the campground for visitors. His granddaughter Attice Westbrook now owns the land and is the camp host.
Cowtown Keeylocko has 99 primitive sites that can fit up to four guests per spot. There is a working cattle ranch, horse trails, hiking trails, live music, and the Blue Dog Saloon bar. Campsites include picnic tables and campfire pits.
Camping here may be one of the most fun and memorable stays of your life, and we encourage you to support Ed's legacy by visiting Cowtown Keeylocko. Sites are $30 per night. See their campground profile at HipCamp.com.
In summary, if you find yourself looking for a Black-owned campground to stay at, this list will give you a reason to take a road trip. If you're looking for more Black-owned campgrounds in other states, please be sure to check out our Black-Owned business directory.
Have you visited any of these? Share In The Comments!