Getting To Know Sophia Danenberg: The First Black Woman to Conquer Mount Everest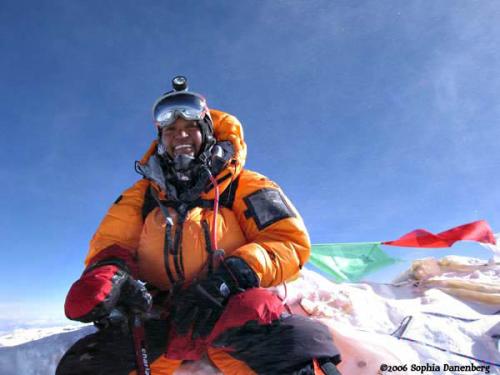 On May 19, 2006, history was made when the first African American and the first Black woman in the world successfully climbed the world's highest peak, Mount Everest (Nepal). I felt like it was important to highlight her story and achievements because people still don't know that we're out there conquering so much in the outdoor world. Climbing to Mount Everest is a feat that many have tried, and many have died for. Not to mention making it to the summit.
I remember reading some tweets the other day when news of the first all-Black team to climb Everest hit the timeline. As usual there were many tweets sating "WE" don't do that, I was saddened by it because, the world is for US too… if it's something "WE" choose to do then do it! I don't want young Black girls or young Black boys to feel limited by the same stereotypes that held a lot of us from falling in love with the outdoors earlier. That's why highlighting the accomplishments of people like Sophia Danenberg are necessary. I want a movie about this woman! Let's learn about where Sophia Danenberg got her start.
Sophia Marie Scott was born in 1972 to a Japanese mother and a Black father, who was a doctor, in Illinois. In 1990, she graduated from Homewood-Flossmoor High School. Afterward, Danenberg attended Harvard University, earning a degree in environmental science and public policy in 1994, before moving to Tokyo to attend Keio University as a Fulbright Fellow. After working for United Technologies in Japan and China, Danenberg moved to Hartford and specialized in green technology research initiatives at United Technologies. She started her professional career there.
After a long-time companion pushed her to attempt rock climbing, Danenberg got interested in Mountaineering in 1999. In these two years, while participating in challenging climbs with her area Appalachian Mountain Club Chapter, she encountered David Danenberg, who she later married. They climbed Mount Kilimanjaro in Kenya in 2002, Mount Baker in Washington State in 2003, and Mount Kenya in 2004. Mount Grand Teton (Wyoming), Mount Katahdin (Maine), Mount Denali, formerly known as McKinley (Alaska), Mount Tasman (New Zealand), and Ama Dablam (Ethiopia) were the five summits she conquered in 2005. (Nepal).
Sophia Danenberg, 34, set out to climb Mount Everest in Nepal in the spring of 2006, with just one week of preparation time. If that isn't badass, I don't know what it. With the support of two Sherpa people, weather updates, food, and oxygen, Danenberg and eight others signed up for an "unguided" ascent on Mount Everest. Danenberg was responsible for her supplies and set up camp. On the climb, she was not assisted by a guide. On May 19, 2006, she and the company reached the peak of Mount Everest after two months of hiking.
Danenberg claims that she never felt discriminated against while on the mountain; however, she noticed mild insults. Her white male climbing companions observed that she was viewed better and irritated on my behalf, she claims. "You become accustomed to just overlooking many things," she adds. It took her some time to come to terms with the fact that she was being mistreated because she was a black woman: "It was considered that I was at best a beginning climber, and at worst a complete novice. The assumption was always that my lover was teaching me how to climb, even when I trained him the ropes. I was unquestionably in charge."
Sophia Danenberg Continues To Climb To The Highest Peaks Of The World
Danenberg has also climbed Aconcagua in South America, Denali in North America, and Kilimanjaro in Africa for the' Seven Summits. These are the tallest mountains on their respective continents (5,895 meters, Africa). It's amazing to know that groups such as "Brown Girls Climb" within the United States provide climbing classes specifically for young racial minorities. And I'm always excited know that we have Black Girls Trekkin as part of this community for any Outdoorsy Black Women that are feeling inspired to climb or make a trek.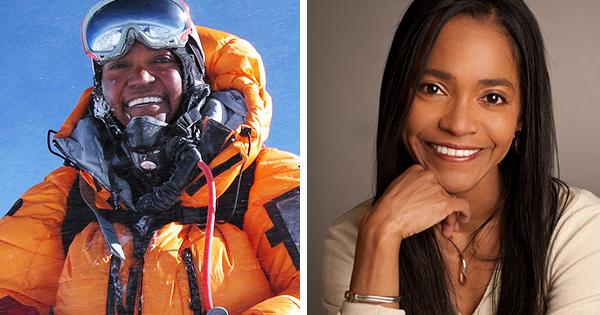 To quote Sophia Danenberg. "If more Black individuals do it and encourage their children and the environment to do it, I predict the number of Black hikers will rise enormously." I hope that her story will inspire you all as much as it inspired me. Here's to all the Outdoorsy Black Women out there making history!
If you're interested in joining other trekkers, consider joining the Black Girls Trekkin group.
Are you a climber?
How does Sophia Danenberg's historical accomplishment inspire you?
Share in the comments 🙂