7 Must-see Backpacking Destinations in the United States To Add To Your List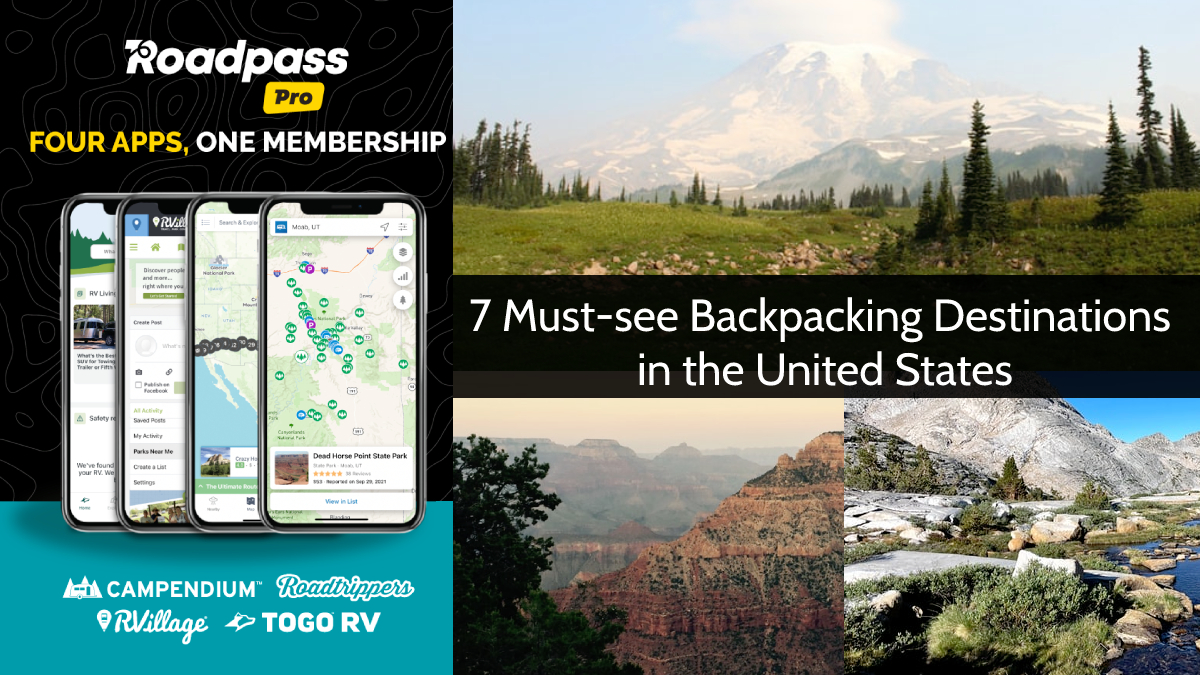 This giveaway is sponsored by Roadpass. Take a minute to scroll below and enter for a chance to win a Roadpass Pro membership valued at $50, there will be 2 winners!
The U.S. offers plenty of options for beautiful backpacking areas, from the forested hills of the Northeast to the jagged peaks of the Pacific Northwest. These are seven of the best backpacking destinations in the U.S, in no particular order.
Appalachian Trail, Georgia Section – The Appalachian Trail is an iconic thru-hike, stretching 2,000+ miles from Georgia to Maine. The Georgia section of the A.T., about 73 miles in length, features the southern terminus of the trail, Springer Mountain. This section of the A.T. is an excellent destination for beginners and experienced backpackers alike. The hike is challenging, but a good introduction to the realities of backpacking and a great way to connect with a strong trail community. You'll pass through some iconic A.T. landmarks, and experience the beautiful North Georgia mountains.
Wonderland Trail, Mount Rainier National Park – This 93-mile-long trail is notoriously challenging, but extremely rewarding given you'll be hiking in the shadow of Mount Rainier the entire journey. The Wonderland Trail will expose you to some of the best landscapes the national park has to offer, from rolling meadows to high alpine areas. You will need a permit for this trail, and more information can be found at NPS.gov.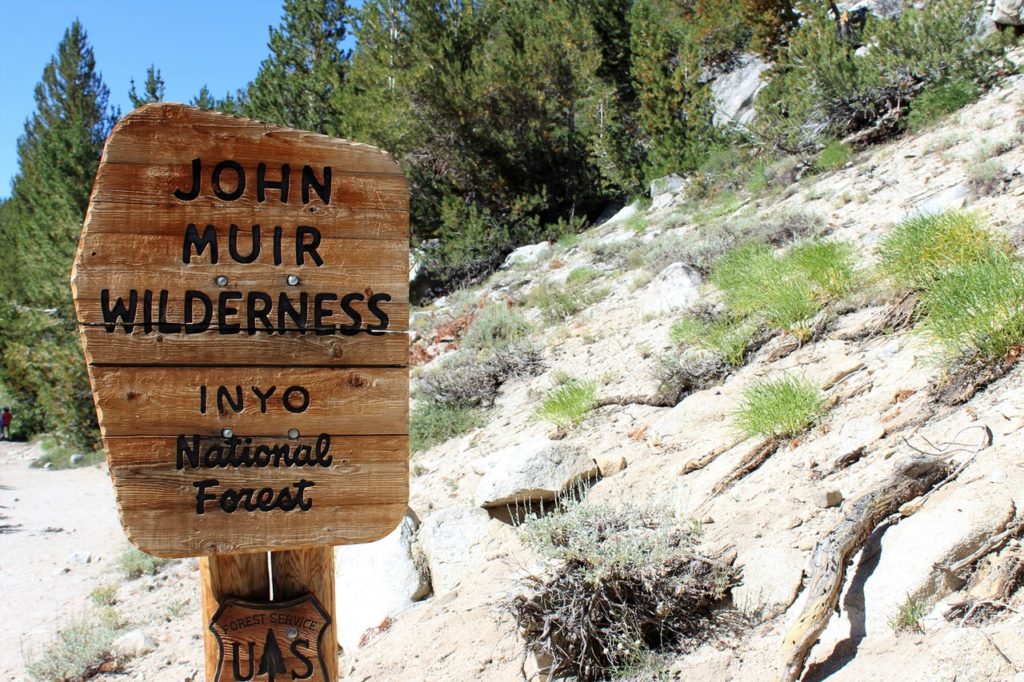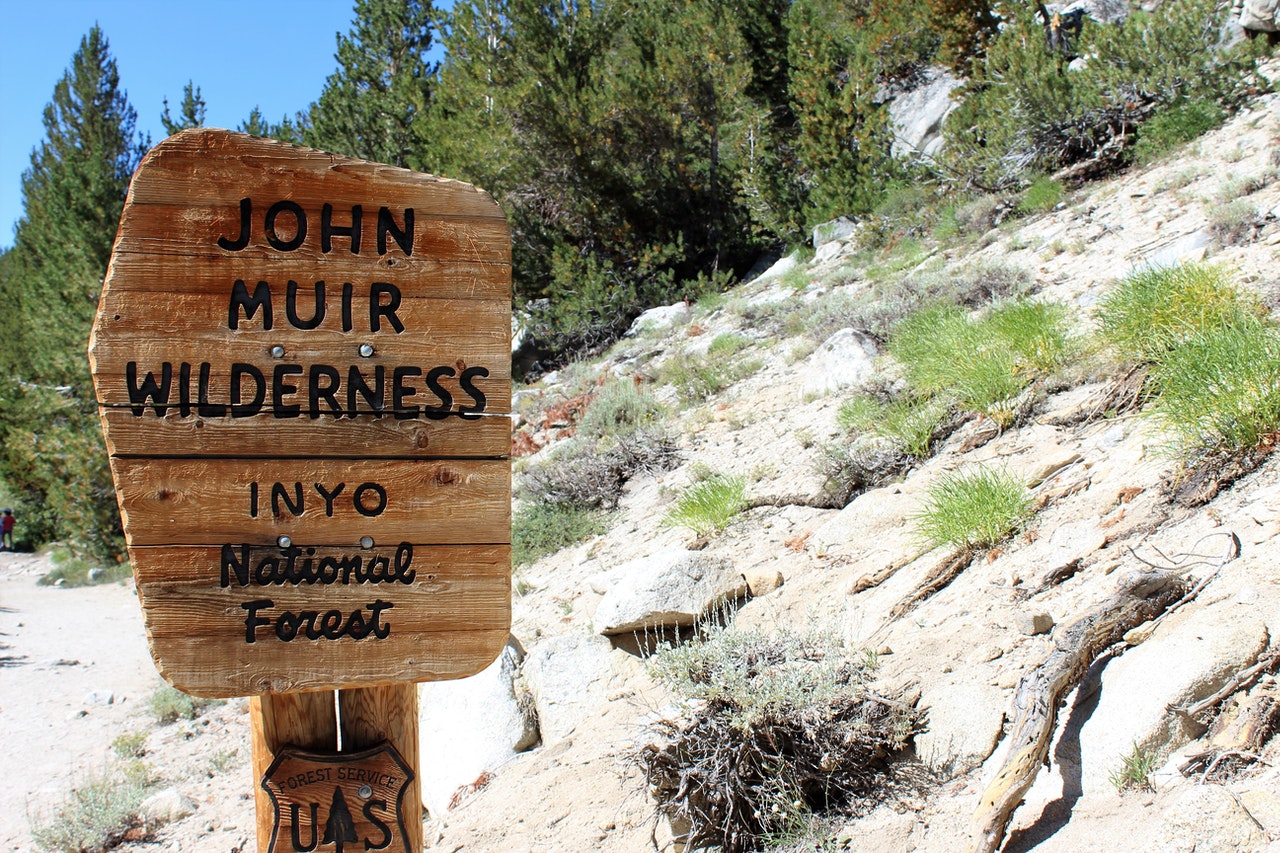 John Muir Trail, California – Another challenging hike in a stunning landscape is the John Muir Trail, an American classic that leads you through Yosemite National Park and the High Sierras. The ending point of the JMT is Mount Whitney, the highest peak in the continental U.S. with a height of 14,505'. This trail is about 210 miles altogether, with a whopping 47,000' of elevation change along the way. You will definitely need to be well-prepared and confident in your athletic abilities to take on this trail, but it will be so worth it in the end. The JMT uses a lottery permit system to limit the number of hikers on the trail every year, and more information is available at NPS.gov.
Maroon Bells, Colorado – Maroon Bells is an iconic American landscape that everyone should experience in person. The Maroon Bells consists of two peaks, Maroon Peak and North Maroon Peak, and is located about four hours southwest of Denver. There are plenty of trails throughout the Maroon Bells area that will give you spectacular views and photo opportunities of the peaks. For a quick and easy hike, Maroon Lakes Scenic Trail is a great option at just one mile long. A more moderate option is Crater Lake, at two miles, and for those seeking a challenge, the 6.5-mile-long Willow Lake Trail is perfect for you. Maroon Bells does require parking reservations, which can be reserved here.
Presidential Traverse, New Hampshire – A Northeast classic, this trail takes you along New Hampshire's Presidential Range for almost 22 miles. This trail leads you up and over eight 4,000' summits, including Mount Washington, the highest peak in the Northeast. If you want to push your limits, you can aim to complete the entire hike in one day, but spreading it out over 2-3 days will be just as rewarding.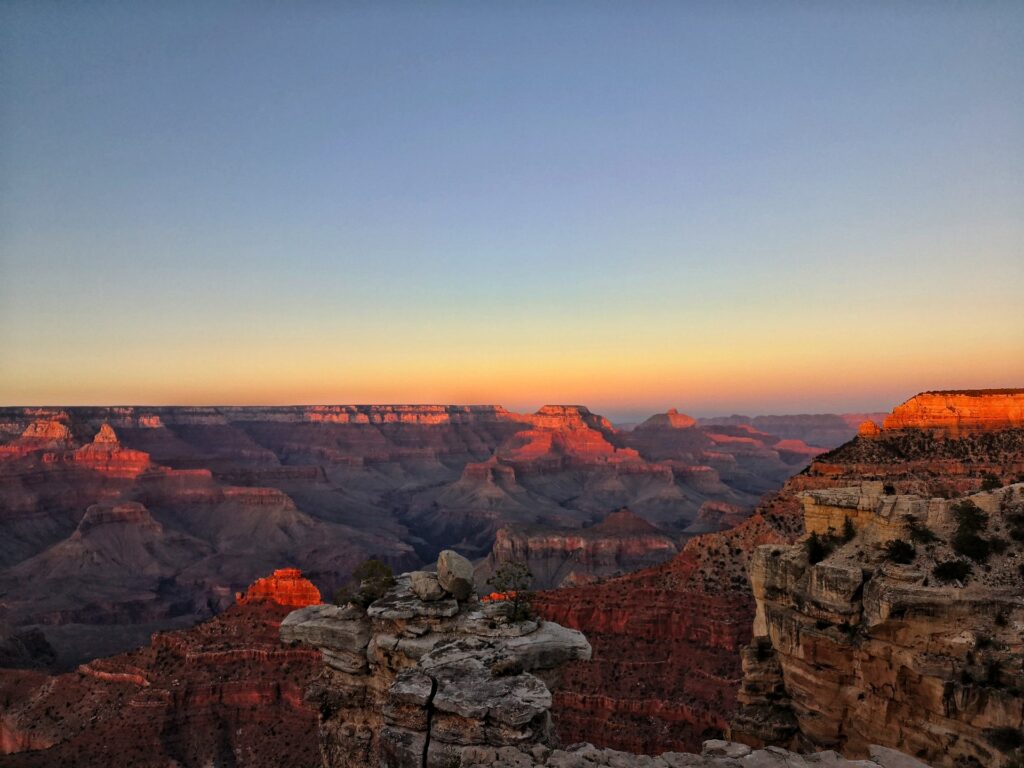 Grand Canyon Rim-to-Rim, Arizona – There are few natural wonders as iconic as the Grand Canyon, and a rim-to-rim hike is one of the best ways to experience it firsthand. The trail is about 24 miles one-way, during which you'll descend 6,000' and climb 4,500'. This hike is definitely strenuous, but if you accept the challenge, you'll become a member of an elite group of backpackers. While hiking rim-to-rim in one day does not require a permit or reservation, you will need one if you plan to camp overnight. Visit NPS.gov for more information.
Glacier National Park: Montana – Visiting Glacier National Park is a truly once-in-a-lifetime experience, offering jaw-dropping views of wildflower fields, alpine lakes, and wildlife. There are over 700 miles of trails, ranging from easy to challenging, which means there's enough options to make everyone in the family happy. Grinnell Hike is one of the most popular, easy hikes in the park, leading you about seven miles out-and-back to views of a crystal blue alpine lake. Those wanting more of a challenge would enjoy Avalanche Lake, which is 4.5 miles long with 500' of elevation gain. One of the more challenging hikes the park has to offer is Highline Trail, an almost 12-mile-long trail that gains close to 700' in elevation. Highline Trail is not for the faint of heart, but has stunning views of the entire park.
Ready to plan your next Trip? Enter To Win A 1 year Roadpass Pro Membership!
Outdoorsy Black Women Roadpass Pro Subscription Giveaway!
We hope you enjoyed this list of awesome backpacking destinations. If you're looking for a squad to join you on your next backpacking trip check out the Black Women Who Backpack group.
What are your must-see backpacking or hiking destinations in the United States?
Share in the comments 🙂