How I Found My Camper Van: Tips and Advice For Finding Your Camper Van Home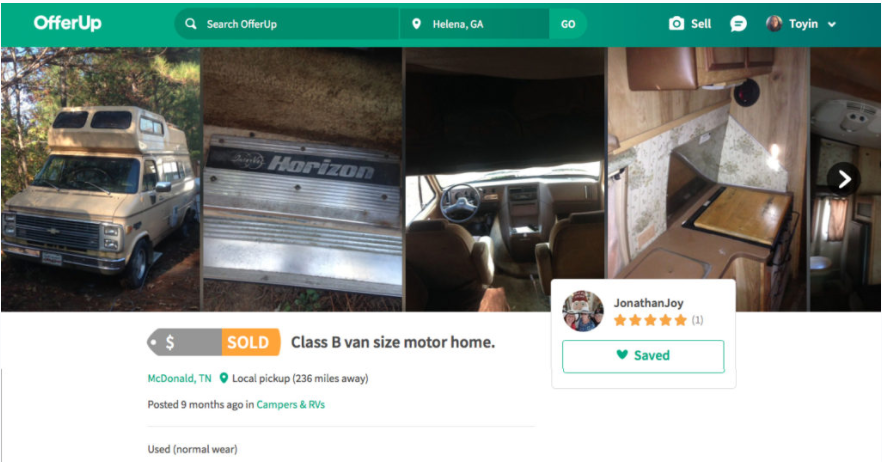 Once I found my glamper van, I was flooded by questions. People wanted to know how I was able to find her so fast. Before going on my camper van search, I made sure to decide how I wanted to live van life. I think knowing what works for you and doesn't work for you in this lifestyle is important. There are so many different ways people do the most basic things – from cooking to how one uses the bathroom.
I respect the different ways people have chosen to live this life. The term van life is very much synonymous with nomadic living in any type of vehicle. Some people do car living, some do mini vans, some do truck camping, rv camping, the list goes on. Keeping that in mind, choosing a vehicle type should be your first decision… each vehicle has it's pros and cons. At the end of the day you have to choose what will work best for you. For me, I knew there were certain must haves for me to do van life comfortably. And knowing what each "must have" could sacrifice is also important too. So before you do ANY shopping, make your must haves list, think hard and long about what you really need and then think about what you want. You can check out my list of camper van must haves below.
My List Of Must Haves For My Camper Van
A toilet
A shower
Good bones
Mechanically sound
Not too many miles
Little to no rusting issues
Ability to stand up
Room for storage
Good price point
Fits in one parking spot
Easy to drive because this was also my first car, lol (I'll dig into that later)
After looking over my list I did a lot of research on what the different types of vehicles entailed. For me, it was easy to narrow my choice down to a camper van or small rv. Although I love the idea of doing a full buildout from scratch, I knew that I didn't have the ability or budget to do all of the repairs I would want to make it the home I would need. So having something with good bones was high on my list.
I found that having a list I could revert back to made such a difference. It's easy to get swept up in the euphoria of choosing a fun new home. At one point I saw a Toyota Dolphin that I LOVED… omg it was so pretty, it was actually closer in proximity and had pretty low mileage. But at the end of the day it didn't fit some of the major criteria on my list 1. it didn't fit in one parking spot 2. It was much bigger and lower to the ground and would have been harder for me to drive and 3. It was a stick shift lol… NEXT.
For me, I'm a pretty spiritual person so one of the things I also did was pray about everything I wanted on my list. I had narrowed it down to what style of camper van I wanted and I was a woman on a mission. After praying, about 2 weeks later I found my gem. You can check out the listing below. I live in Atlanta but she was in Tennessee. It was owned by an older couple, the wife bought it for her husband (really she bought it for herself lol). They were the second owners and the first owner was his brother. One of the cool things about their story is their daughter lives a nomadic life, so they really wanted this camper to go to someone who would make good use of her.
Once we negotiated terms, I knew I couldn't get to Tennessee for at least a week. I can't explain how scared I was that they would sell her to someone else. I've heard and seen the stories in my van life groups of this happening. I was fortunate enough that they kept their word and I rented a car with my brother and we went to look at her that next Tuesday.
Before going, I called an insurance company to get quotes, printed a bill of sale and checked the criteria for selling in Tennessee, transferring ownership in Georgia. I wanted to make sure I had all my bases covered. I also contacted a shipping company before I left. Although I felt like she was in decent condition, I hadn't had a full inspection done so I didn't want to chance driving it.
When I got up to Tennessee I fell in love with her and the buying process was fairly easy, my brother and I checked out as much as we could and he did the test drive, lol.
Even after all my careful planning, the first shipping company I found wasn't able to pick her up on time. Since my brother and I had to drive back to Georgia that same day, I was faced with a tough decision. The couple I was purchasing from was kind enough and honest enough to let me leave my camper van in their front yard and they handed the keys to the shipping company the next day. I waited patiently… not so patiently and Leanardo was delivered to my front door the next day 🙂
Things I Learned From Others
Check for rust
Check for mold
Low mileage isn't always a good thing, if the vehicle has been sitting too long it could cause issues.
Get a pre-sale inspection. Either go to a mechanic with the seller or have a mechanic come with you.
For an rv/motorhome, get it checked at an rv repair shop.
Don't be too excited to trust your gut
Great Places To Find A Campervan
Facebook Marketplace
Offerup (which is where I found mine)
LetGo
Craigslist
Ebay
RV Trader
Facebook Groups
What were/are some of the things on your camper van must haves list?
Share In The Comments